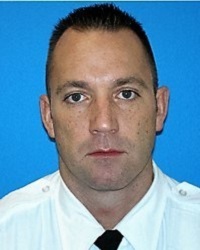 Technical Sergeant Anthony C. Campbell, Jr. | United States Air Force
Badge: 394
Age: 35
Served: 1½ years
June 22, 2008 to December 15, 2009
OFFICER
Tony Campbell, after graduating from Boone County High School in 1992, immediately enlisted in the United States Air Force. Upon discharge in 1995, he joined the Air Force Reserves. On June 22, 2008, he joined the Cincinnati Police Department as a Police Recruit and graduated the Police Academy in December 21, 2008 and assigned to District One.
On July 6, 2009, the Air Force Reserves called him up as a Technical Sergeant and explosive ordnance disposal (EOD) team leader with the 932nd Civil Engineer Unit. He was deployed to southern Afghanistan during October 2009. During his deployment to Afghanistan, Sergeant Campbell assisted in recovering and destroying over 280 pieces of ordinance and bulk explosive charges and actively thwarted enemy bomb makers by disposing of more than 1¼ tons of explosives used in improvised explosive devices.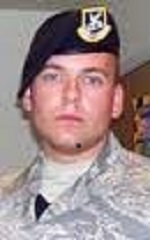 INCIDENT
On December 14, 2009, Sergeant Campbell and his wife, Emily, were 'talking' by email when he had to log off to leave for an overnight mission. That night and into the morning of December 15, Sergeant Campbell was engaged in ground operations against the enemy in the vicinity of Hyderabad, Central Helmand Province, Afghanistan. He was tasked with supporting a coalition deliberate cordon and search mission in support of Task Force 4. Sergeant Campbell cleared a safe path to the mission objective and provided armed security over-watch for his four-man team.
Sergeant Campbell then began the task of clearing a route for follow-on forces through the gates of the objective entry point. He recognized an improvised explosive device in the team's path. He moved the team away from the danger area and, while doing so, the device detonated. His actions enabled his team members to safely evacuate the lethal zone, but he was killed in the explosion.
FUNERAL
A few hours after their email session, Mrs. Campbell was awakened and notified of death. Officer Campbell was also survived by his parents, a daughter, Jordan Campbell (7), a son, Ryker Campbell (2), and a stepson, Devin Ruberg (11).
Officer Campbell's body was flown from Dover Air Force Base to Wright Patterson Air Force Base on Monday, December 21, 2009.   From there, multiple police agencies escorted him to a funeral home in Erlanger, Kentucky. Visitation was held from 9 a.m. to 12:30 p.m. Tuesday, December 22, 2009, at Florence Baptist Church at Mount Zion, 642 Mt. Zion Road in Florence. The funeral service was 1 p.m. at the church. After the service, they processed to the Kentucky Veterans Cemetery in Williamstown where he is buried.
EPILOGUE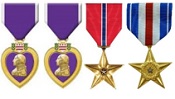 For his heroism and intrepidity, Sergeant Campbell was posthumously awarded a Bronze Star Medal with Valor device, Purple Heart Medal, Army Commendation Medal, Navy and Marine Corps Achievement Medal, and Air Force Combat Action Medal.
Officer Campbell is the third area law enforcement officer to have died on December 15 in the service of his community. He is the second Cincinnati officer to have died in military action; the first being  during World War II. And, he is at least the second Cincinnati officer issued Badge 394 and killed in the line of duty; Patrolman William Boers being the first in 1917.
If you know of information, artifacts, archives, or images regarding this officer or incident please contact the Greater Cincinnati Police Museum at Memorial@Police-Museum.org.
© This narrative was revised May 26, 2013 by Cincinnati Police Lieutenant Stephen R. Kramer (Retired), Greater Cincinnati Police Historical Society President. All rights reserved to him and the Greater Cincinnati Police Museum.