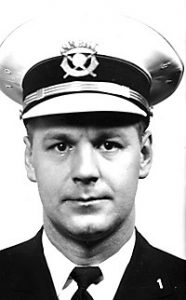 Badge:  S64
Age:     46
Served: 22 years
September 15, 1952 to December 8, 1974
OFFICER
Charles Handorf, a Roger Bacon High School graduate, joined the Division in 1952.  Within five years, Captain Clem Merz, District Four Commander, had determined him to be one of the most reliable men in the district, detailed him to plain-clothes investigations within the district, and continuously prodded him to become a sergeant.
During 1960, based on competitive examination, Patrolman Handorf was promoted to Detective and transferred to the Crime Bureau.  During 1961, after another exam, he was promoted to Sergeant.  That year, he was selected to attend the prestigious three-month Administrative Officers Course at the Southern Police Institute at the University of Louisville.  It was rare that a sergeant would be selected and unprecedented that a newly promoted sergeant would be.  Division commanders obviously expected a lot of Sergeant Handorf.
During February 1966, he was transferred to Vice Control Bureau and during October 1966 to take over the District Three Tactical Unit.  He was so assigned when he completed his tour of duty at 11 p.m. on December 7, 1974.
INCIDENT
Also about that time, Herbert Merz, Jr., a recently dismissed Cincinnati Fire Fighter with mental health issues, had a confrontation with his common-law wife, Nancy Woefle.  At 12:15 a.m. on December 8, 1974, Cincinnati Police Communications received a report that the man living at 6438 Home City, later identified as Merz, had just discharged a firearm.  District Three Police Officers Hiawatha Hampton (Call No. 301) and David Holloway (Call No. 301A) were dispatched.  Upon his arrival, Officer Hampton, stepped onto the porch and heard a shot fired inside the residence.  He left the porch, crouched down behind a rock wall, and radioed for assistance.  Officer Holloway arrived.  Sergeant Harvey Freeman (Call No. 319) was dispatched and Sergeant Donald Andres (Call No. 320) also responded.
Sergeant Handorf was walking out of the District 3 stationhouse and, though off duty, he also responded.  Captain Neville (Call No. 300) was off duty also, in his personal car, but he heard the call on his police radio and also responded.  Having a nearly a direct route down Cleves Warsaw Avenue, Captain Neville was the first supervisor to arrive.  Many other District Three and Delhi Township officers also responded.
Captain Neville asked Delhi Sergeant Redman to position his cars with their spotlights fixed on the windows of the home (Cincinnati's vehicles were not so equipped).  He directed officers to surround and observe the house from safe positions.  He made numerous attempts to communicate with Merz by phone and by bullhorn.
Patrolman Robert Schlinkert was dispatched to pick up and bring Ms. Woefle to the scene, but she proved to be too emotionally distraught to communicate with Merz.
During all of this, Merz did not respond, continuously walked around on the second floor of the house, and occasionally fired a shot inside.  Then, suddenly, Merz threw open a window and had a dialogue with Sergeant Andres and Police Officer Cleon Wingard on the side of the house; but he refused to throw down a semiautomatic pistol he held in his hand stating that he did not wish to see the pistol harmed.
At 1:45 a.m., Captain Neville determined that his passive options were exhausted.  He directed Sergeant Freeman to discharge a projectile of tear gas into the residence using a 37mm launcher.  The projectile did not fly true, drastically veering upward, and struck the exterior wall about two feet above the window.  Merz immediately began firing at the officers in front using a .32 caliber revolver and Mauser P. 38 9mm semiautomatic pistol.  Every officer in the front of the house returned fire; Captain Neville, Sergeant Handorf, Specialist McCurry, and Delhi Patrolmen Roebel and Scarborough with revolvers and Officers Wingard and Holloway and Sergeant Redman with shotguns.  In all, 35 to 40 shots were fired by Merz and police officers.
Second later, Sergeant Handorf lay dead with a bullet wound to his right eye and Merz was dead with multiple bullet wounds.
The Cincinnati Fire Division's Rescue 1 transported Sergeant Handorf to General Hospital, where he was pronounced dead on arrival by Dr. Troop at 3 a.m., and then to the morgue at 3:10 a.m.
Two other handguns were found with Merz, a .380 caliber semiautomatic pistol and a .38 Special revolver.    He was also transported to the hospital and the morgue.  An autopsy revealed that he had alcohol and drugs in his system and two fatal wounds, both from .38 Special Super Vel bullets.  It was determined that Delhi Officer Roebel had been using Super Vel ammunition, a copper jacketed hollow point, high velocity round.  Cincinnati officers fired round nosed, lead bullets which were far inferior to the Super Vel and most of which ended up in the wood framing surrounding the window.
FUNERAL
He was predeceased by his brother, Ronald Handorf.  Sergeant Handorf left a wife, Joanne Handorf, children, Jean Even and Denise Handorf; granddaughter, Katie Even; parents, Charles J. and Rose M. Handorf, siblings, Rose Marie Von Hagel, Gerald Handorf, Marilyn Hill, Shirley Hartmann, Phillip Handorf, Thomas Handorf, Carol Dipilla, Jeffrey Handorf, Cincinnati Police Officer Lawrence Handorf, Patricia Schultz, and Nicholas Handorf; and stepchildren, Victoria, Sandy, and John.
Visitation was held for four hours on the evening of December 10, 1974 at Niehard-Minges Funeral Home in Westwood.  A Mass of Christian Burial was celebrated at the Church of the Little Flower in Mt. Airy on December 11, 1974.   Sergeant Handorf was buried immediately thereafter in Spring Grove Cemetery.
EPILOGUE
The deaths Patrolman David Cole and Sergeant Charles Handorf in 1974 and Police Officer William Loftin and Sergeant Robert Lally in 1975 forever changed the tactical responses of law enforcement officers in the country.  A Cincinnati Police Division Police Officer Survival training program grew from these four tragedies and soon received national attention.  One aspect, the move to include shooting from within arm's reach in firearms training was groundbreaking in the mid-1970s.  It is now common in almost all law enforcement officers firearms training across the country and required training for all Ohio law enforcement officers.  The Division's Police Officer Survival program were used as models for the national Street Survival Program.
Sergeant Handorf's mother, Rose, died in 1985 at the age of 75.  His father, Charles, died in 1993 at 86.
During 1995, Sergeant Daniel Gerard was assigned Badge No. S64 and voluntarily surrendered it so that the Police Division could retire it.
Sergeant Handorf's brother, Nicholas Handorf, conducts a memorial service at Old District Three, 3201 Warsaw Avenue, each December.
If you know of any information, artifacts, archives, or images regarding this officer or incident, please contact the Greater Cincinnati Police Museum at Memorial@Police-Museum.org.
© This narrative was revised on November 11, 2019 by Cincinnati Police Lieutenant Stephen R. Kramer (Retired), Greater Cincinnati Police Historical Society Vice President, with assistance from Cincinnati Homicide Lieutenant Thomas Oberschmidt (Retired), Greater Cincinnati Police Museum Volunteer, who supervised the investigation of this incident, and Cincinnati Police Sergeant William T. Beuke (Retired), Greater Cincinnati Police Museum Director, who worked in District Three on the night of the incident.  All rights are reserved to them and the Greater Cincinnati Police Museum.