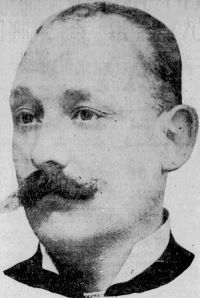 Age: 42
Served: 20 years
May 7, 1887 to April 28, 1907
During the morning of April 28, 1907, Patrolman Satters was walking home from the District Four stationhouse on Fifth Street having completed his tour of duty on the night shift.  At Sixth and Stone Streets a man excitedly ran up to him begging for his protection.  The man was being chased by Philip Schwartz, known as the "Duke of Shantytown."  Shantytown was a group of houseboats and shacks at the foot of Burns Street.
Patrolman Satters saw Schwartz and began to walk across the street toward him when Schwartz pulled a .38 caliber revolver and began firing at and striking the officer.  Patrolman Satters pulled his Department-required, Colt .32 caliber New Police model revolver and returned fired.  They emptied their revolvers at each other, each being struck multiple times.  Patrolman Satters fell unconscious.  Though shot through the body and in the face, hand, and leg, Schwartz reloaded and held the crowd at bay until other patrolmen arrived to take him into custody.  Patrolman Satters was rushed to the Cincinnati Hospital.
Patrolman Satters died the next day on April 29, 1907.  Having lost his first wife, he was survived by his second wife, Ida, with whom he had no children.  He was buried on May 1, 1907, in Spring Grove Cemetery at 3:30 p.m. Though Ida remarried within a year – to another police officer – upon her death in 1920, she was buried next to Patrolman Satters.
Schwartz was convicted and sentenced to life.
Note:  Before he received his fatal wound, Patrolman Satters shot Schwartz through the body, yet failed to stop him.  It is probable that if Patrolman Satters had been armed with a .38 Special revolver rather than the .32 caliber, Schwartz would have died and Patrolman Satters might have lived.  After this incident, Cincinnati Police were equipped with .38 Special revolvers and this caliber of revolver has served almost every local law enforcement agency in the area for seven decades.
If you have information, artifacts, archives, or images regarding this officer or incident, please contact the Greater Cincinnati Police Museum at memorial@police-museum.org.
This narrative was revised October 11, 2013 by Cincinnati Police Lieutenant Stephen R. Kramer (Retired), Greater Cincinnati Police Historical Society President. All rights are reserved to him and the Greater Cincinnati Police Historical Society.