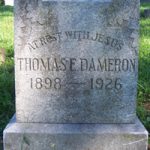 Age:     29
Served: 2½ years
June 9, 1924 to December 17, 1926
OFFICER
Tom was born on January 2, 1897 in Kavanaugh (Boyd County), Kentucky to Lafayette and Vernie (Spencer) Dameron.  As an adult, he moved to Cincinnati and was living on Ellen Street.
Tom joined the United States Navy on January 5, 1918 to fight in World War I.  He trained at Newport, Rhode Island and Norfolk, Virginia until July 3, 1918.  He was assigned to the submarine base in New London, Connecticut and spent 311 days at sea.  Seaman 2nd Class Dameron was honorably discharged on December 9, 1918.
After returning from the war, he went to Flint, Michigan for work as a machinist in an auto assembly plant.  By 1924, he was working as a brakeman back in Cincinnati.
Tom joined the Cincinnati Police Department as a Substitute Patrolman on June 9, 1924.  On January 7, 1925, he was promoted to Patrolman.  On May 1, 1925, he transferred from District 6 to District 4 and was living at 334 Baum Street.
On July 3, 1926, Dee Herd, of 543 Freeman Avenue snuck up on Baltimore and Ohio Railroad Detective James O'Neill, jerked the revolver from O'Neill's holster, ran a short distance, and turned and fired at O'Neill as the detective pursued him. Herd escaped with the revolver.
On July 10, 1926, Herd went to the home of Frank Horstman at 1041 W. 6th Street, struck the elderly man in the head with a brick, and robbed him of $3.60.
On July 15, 1926, Patrolman Clyde McMahon saw Herd, gave chase, and fired shots at him, but Herd escaped again.
INCIDENT
On August 1, 1926, about 5 a.m., after a restless night in the area, during which three people were stabbed or cut, Sub Patrolman Clarence Turner saw Herd and another man in an alley near 3rd and Smith Streets. Turner stopped them and while searching Herd, the other man, August Saunders, delivered a powerful blow to Turner's head knocking him to the ground and nearly unconscious. The two took Turner's badge, wallet, blackjack, and revolver and beat him over the head with his blackjack inflicting several lacerations. Though stunned, Turner borrowed a revolver from a resident and pursued the robbers, firing shots at them.
Patrolmen Dameron, McMahon, and Herze heard the shots and responded. On the way, they saw Herd and Saunders and gave chase up Webb Alley. Dameron shot Herd, knocking him to the ground, at which time he dropped O'Neill's revolver that he was still carrying. Saunders picked up O'Neill's revolver and the officers pursued him to his home at 518. W. 6th Street. Saunders, using both O'Neill's and Turner's revolvers, engaged the officers, striking Patrolman Dameron in the left breast. The patrolmen returned fire. In the fusillade of bullets, Saunders was struck four times in the abdomen, once in the head, and once in the arm. He lunged down the cellar stairs into the basement. He was found to have Turner's badge, pocketbook, and revolver on his person. Herd escaped again across the Chesapeake and Ohio Railroad Bridge into Kentucky.
Patrolman Dameron was taken to General Hospital with a bullet in his spine. Patrolman Turner was taken there also with severe lacerations and bruises about the head and a broken jaw. Saunders was also taken to General Hospital and died several hours later.
DEATH
After suffering through 4½ months of tremendous pain, Patrolman Thomas Dameron succumbed to septic peritonitis on December 17, 1926 at 1:30 a.m.
Patrolman Dameron was survived by his mother, Vernie Dameron.  He was buried next to his father on December 18, 1926, in Catlettsburg Cemetery at the top of Section A next to the road in Catlettsburg, Kentucky.  His mother lived another 26 years without her husband or son and was buried next to them in 1952.
JUSTICE
Information came to police headquarters on August 9, 1926 that Herd was hiding out in his home with a bullet wound to his hip.  Police responded and this time he was arrested.  He was tried on September 24, 1926 for the robbery of Detective O'Neill.  He denied his involvement and even that he had a bullet wound, but the jury took all of two minutes to find him guilty.  He was sentenced on September 25, 1926 to 15 years in prison.  He would be tried later of the Horstman robbery, but never for his involvement in the Dameron shooting.
If you have any information, artifacts, archives, or images regarding this officer or incidents, please contact the Greater Cincinnati Police Museum at Memorial@Police-Museum.org.
© This narrative was revised July 21, 2017 by Cincinnati Police Lieutenant Stephen R. Kramer (Retired), Greater Cincinnati Police Museum Director, with some research assistance from Cincinnati Homicide Detective Edward W. Zieverink III (Retired), Greater Cincinnati Police Museum Historian.  All rights are reserved to them and the Greater Cincinnati Police Historical Society.