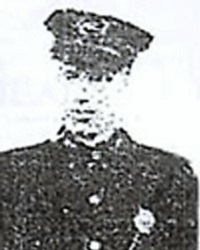 Age:     30
Served: Almost 6 years
1918 to April 22, 1924
OFFICER
Tony was born June 12, 1894 to German immigrants Louis and Mary (Ott) Siemon.  By 1924, he was living with his wife, Mary Siemon, at 605 Isabella Street.
INCIDENT
Patrolmen Siemon and William Abbe, Deputy Sheriff George Gugle, and Detective James Fuller, on March 29, 1924, attempted to serve a warrant on Pearl Hageman at her home at 409 W. Fifth Street and Patterson Street.  They were attracted to an adjoining house at 411 W. 5th Street by rowdy crowd.  As soon as the door opened at that residence, a man in the crowd fired a shot at the officers.  More than 15 shots were fired during the ensuing gunfight.  The officers responded in and Patrolman Siemon captured one of the men.
As Patrolman Siemon escorted him out of the yard, he was hit in the head with a beer bottle and his prisoner escaped.  He recaptured him in the rear yard and another man approached him from the rear and stabbed Patrolman Siemon in the abdomen.  Patrolman Siemon fell to the ground, drew his revolver, and fired three shots.  One shot hit Joseph Sorrell (39) of Scranton, Kentucky in the leg.  His brother, John Sorrell (32) of Bellevue, was shot in the arm.  Both were apprehended and held on charges of Cutting to Kill.
Patrolman Siemon and the Sorrell brothers were taken to Speers Hospital in Dayton, Kentucky.
DEATH
While in the hospital, Patrolman Siemon developed pneumonia and peritonitis.  He hovered between life and death for three weeks.  Patrolman Siemon died on April 22, 1924 becoming the second Newport officer to be killed in the line of duty.
Patrolman Siemon left a wife, Mary Siemon.  On April 25, 1924 Newport city officials and members of the Newport Police Department met at his home at 8:30 a.m. and escorted the funeral cartage to Corpus Christi Church at 9th and Isabella for a requiem high mass.  The street was lined with people, including every member of the Newport Police Department.  The pallbearers were Patrolmen Oney McLaughlin, Charles Hamilton, Fred Taylor, Morris Hodesh, and William Abbe.  The people and officers lined the streets again after the funeral all the way to the corporation limit at 12th and Monmouth Street.  At St. Stephen's Cemetery Newport officers knelt in silence while his remains were lowered into his grave.
JUSTICE
On the day after Patrol Siemon died, police charged the Sorrell brothers with willful Murder.  Both were indicted on June 20, 1924.  Their trial was due to begin July 14, 1924 but was delayed until September.
After a lengthy trial and sequester, on October 2, 1924 the jury returned a verdict of Guilty for Manslaughter and sentenced to three years in the penitentiary.
If you know of any information, artifacts, archives, or images regarding this officer or incident please contact the Greater Cincinnati Police Historical Society at Memorial@Police-Museum.org.
© This narrative was further researched and revised on November 30, 2011 by Cincinnati Police Lieutenant Stephen R. Kramer (Retired), Greater Cincinnati Police Museum Executive Director.  All rights are reserved to him and the Greater Cincinnati Police Historical Society.