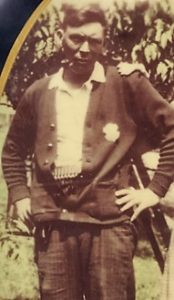 Badge:  1
Age:     41
Served: 2 years
January 1, 1924 to February 27, 1926
OFFICER
Henry was born July 26, 1884 in Indiana to Ezra and Louisa (Johnson) Knapp.  At 15, he was living in Wayne Township near Indianapolis and running a buzz saw, probably at a lumber mill.
Ten years later, he was living in Fernbank Village (now Saylor Park) and working as a coremaker at the PNC Foundry.  He married in 1908.  By 1920 he was living in Addyston with his wife, three children, and a stepdaughter and still working at the foundry.
During the 1923 election, Henry ran for Village Marshal of Addyston and was elected.  He became very popular during 1924 having successfully investigated the murder of Edna Boswell (14), an Addyston schoolgirl and arrested and convicted James Henry.  Marshal Knapp was re-elected in 1925.
A week or ten days into February 1926, Marshal Knapp arrested Anna Clay Roberson (25) in a boarding house in Hopkinsville, a settlement of the United States Pipe and Foundry Company, for possession of alcohol and fined her $100.  It was not a major arrest, but it would lead to his death.
INCIDENT
During the morning of February 27, 1926, Marshal Knapp went to the same boarding house with a warrant for the arrest of George Patterson.  Anna Clay Roberson saw him coming toward the house.  Fearing he was coming after her again, she said to Clarence Warner (22), another occupant, "Here comes Knapp.  I'm going to kill him with this glass jar!"
When Marshal Knapp came through the door, she hurled the jar at him.  She also pulled a revolver on him and held him a bay.  Roberson then told Warner to retrieve another revolver from a dresser drawer, which he did.  Together, they disarmed Marshal Knapp and ordered him from the house.  Unarmed, Marshal Knapp chose to leave.
Roberson, apparently intent on embarrassing Marshal Knapp, ordered him back at gunpoint and took his badge and Patterson's warrant.  This was more than Marshal Knapp would take and when he protested Warner shot him with his own revolver.  The bullet entered his forehead and ran the circumference of the interior of the skull to the rear.  Freeman and Warner then fled the house.
INVESTIGATION
Deputy Marshal Richard Rupe responded.  He found Marshal Knapp's badge and revolver, with one round fired, and Patterson's warrant on the kitchen table.  He took Marshal Knapp by automobile to his home where physicians examined him and initially determined that while the wound was serious, it was not dangerous.
News of the shooting spread rapidly, and scores of citizens formed a posse to find the perpetrators.  Deputy Marshal Isadore Chinn, half a mile away and unaware of the shooting, saw Warner running with a revolver in his hand and took him into custody just as the posse arrived.  They then took him to the Addyston jail and locked him up.
Patrolmen from Cincinnati and other villages searched for Roberson.
Citizens began surrounding the Addyston jail and it was thought they would break in and lynch Warner.  Hamilton County Sheriff Richard B. Witt was notified and dispatched Chief Deputy Sheriff Fred Sperber and three deputies.  After conferring with Mayor William Gray, Warner was removed to the Hamilton County Jail in Cincinnati.
Chief Sperber also questioned Warner and while he initially admitted his presence and denied firing the revolver, he later admitted shooting Marshal Knapp.
Late that night, Marshal Knapp's condition began to deteriorate, and he was transported to Bethesda Hospital in Cincinnati.
DEATH
Marshal Knapp succumbed to shock and meningitis two weeks later on March 14, 1926.
Marshal Knapp was survived by his wife, Norma (43) and three children; John (10), Henrietta (8), and Elton (7).  He was buried in Section 1, Lot 182, Grave 7 of Maple Grove Cemetery, Cleves, on March 17, 1926.
JUSTICE
Eventually Roberson was captured.  She and Warner were tried and convicted of Murder and sentenced to life in prison.  Warner was paroled in 1960.  We do not know if Roberson died in prison.
If you know of any information, archives, artifacts, or images of this officer or incident, please contact the Greater Cincinnati Police Museum at Memorial@Police-Museum.org.
© This narrative was revised on November 27, 3014 by Cincinnati Police Lieutenant Stephen R. Kramer (Retired), Greater Cincinnati Police Historical Society President, with research assistance from Cincinnati Homicide Detective Edward W. Zieverink III, Greater Cincinnati Police Museum Historian, and SORTA Operations Superintendent Philip Lind, Greater Cincinnati Police Museum Registrar.  All rights are reserved to them and the Greater Cincinnati Police Historical Society.