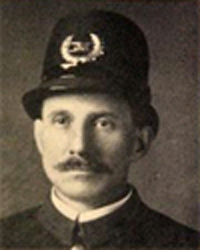 Age: 48
Served: 9 years
September 16, 1907 to July 3, 1916
On July 1, 1916, Patrolman Yarnell was called to Caldwell Street for a report of an intoxicated Walter Balser abusing his wife. Patrolman Yarnell attempted to arrest the powerfully built Balser and several officers were needed to overcome his resistance.
While in the search room at the Hamilton Police station, at 6:15 p.m., Dr. Zerfass tried to tend the wounds that Balser sustained during his arrest. When Inspector Walke ordered Balser to sit in a chair, Balser suddenly punched him knocking him unconscious. As he fell, Balser flung himself on top of the Inspector. Inspector Walke's head struck the cement floor, fracturing his skull. Balser had to be pulled off by Dr. Zerfass. He boasted to Dr. Zerfass, "Did you see how I handled that guy?"
Inspector Walke was carried into the Mayor's office bleeding from the nose and ears. Dr. Edward Cooke was called and he ordered the inspector to Mercy Hospital. His condition worsened before arriving at the hospital and steadily thereafter until Monday morning, July 3, 1916, when all hope of a recovery was given up and the family was called to the hospital. Inspector Walke never regained consciousness and died that afternoon at 3:30 p.m. from the fractured skull and concussion of the brain.
Inspector Walke left a wife, Minnie A. Walke, and three children, Mark Walk (21), William Wilmer Walk (19), and Hardeman Martin Walke (16). Funeral services were conducted at his home at 713 Central Avenue by Rev. C. R. Sine of the High Street Church of Christ. Following which his remains were escorted to Greenwood Cemetery by a detail of police, the Eagles, and the Ben Hurs. Inspector Walke's youngest son, Martin, was shot and killed in another homicide in Hamilton 5 years later in 1921. Mrs. Walke died in 1933.
Inspector Walke was the first line of duty death in the Hamilton Police Department.
Balser was tried for 2nd Degree Murder. On December 18, 1916, within an hour of retiring, the jury found Balser guilty of Manslaughter. On January 18, 1917, Judge Murphy sentenced Balser to 1 to 20 years in the penitentiary.
If you have information, artifacts, archives, or images regarding this officer or incident, please contact the Greater Cincinnati Police Museum at memorial@police-museum.org.
This narrative was revised on June 29, 2015 by Cincinnati Police Lieutenant Stephen R. Kramer (Retired), Greater Cincinnati Police Historical Society President, with research assistance from Joyce Meyer, Price Hill Historical Society Researcher. All rights are reserved to them and the Greater Cincinnati Police Historical Society.