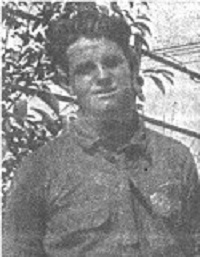 Age:        22
Served:    < 1 year
OFFICER
Bud was born June 6, 1901 in Cincinnati, the oldest child born to George (of Ontario, Canada) and Henrietta (Grosheim of Kentucky) Seaman.  He was 13 years old with four siblings when, in 1914, his father died.  He found employment at the John Shillito Company to support his family.  By 1918 as a 16-year-old, he was driving a truck and his mother remarried.  During 1922 he was still listed as Chauffeur, but also a salesman for the Cincinnati Parfay Company at 552 W. McMicken.
Sometime after June 1922 and before May 1923, Bud joined the Hamilton County Sheriff's Office and patrolled on a motorcycle.  On May 7, 1923, he and Deputy Thomas Opel and Wyoming Speed Officer Jack Adler chased auto thieves which turned into a running gun battle with three thieves.  His motorcycle ran out of gas and the suspects escaped.
Sometime after May 1923, Bud was appointed Deputy Marshal in the Village of North College Hill.  It is likely, based on strategies employed by villages in this era, he was hired to work at night, opposite the Marshal, and possibly as a speed enforcement officer.  By day, he was still driving a truck.
INCIDENT
On June 12, 1923, Deputy Marshal Seaman was riding in the sidecar of the motorcycle being operated by Marshal J. W. Smith.  They were struck by an on-coming automobile on the Dayton Pike about two miles above Sharonville and forced into a ditch.  Both were injured and taken by private conveyance to General Hospital in Cincinnati at 1:24 a.m.  Marshal Smith had a broken toe and facial lacerations.  Deputy Marshal Seaman had a head injury that was, at the time, not considered to be serious.
DEATH
Later, it was realized that Deputy Marshal Seaman's injury was serious, a fractured skull.  He died in General Hospital, five days after the crash at 10 p.m. on June 17, 1923.
Marshal Seaman was survived by his mother, Henrietta (Seaman) Deschene; stepfather, John Deschene; siblings, Alberta Seaman (24), Marguerite Seaman (19), Evelyn Seaman (16), and Willis Seaman (14); and stepbrother, Leland Deschene (9).  He was buried in Evergreen Cemetery on June 20, 1923.  His mother was buried with him in 1943.
INVESTIGATION
The law enforcement activity he was performing is currently lost to history.  It is most likely that they were chasing a violator – possibly one associated with bootlegging.  One source asserts the violating vehicle bore Ohio license number 349186.  But The Cincinnati Enquirer reported on June 18, 1923 that the striking vehicle had not been found and that it was hoped that a renewed search would be conducted after his death.  But we have no information that leads us to believe that a suspect vehicle or driver was ever identified.
If you know of any information, artifacts, archives, or images regarding this officer or incident, please contact the Greater Cincinnati Police Museum at Memorial@Police-Museum.org.
© This narrative was further researched and revised May 24, 2019 by Cincinnati Police Lieutenant Stephen R. Kramer (Retired), Greater Cincinnati Police Historical Society Vice President.  All rights are reserved to him and the Greater Cincinnati Police Museum.