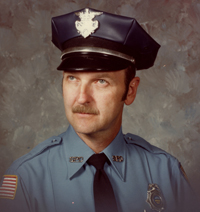 Badge: 5
Age: 48
Served: 8 years
May 17, 1975 to June 27, 1983
After 20 years of service to our country, including eleven months in Korea and Vietnam, Gunnery Sergeant William L. Johnson retired from the United States Marine Corps on October 31, 1972. However, his service to his community was not over.
He graduated from the Lebanon Police Academy on January 17, 1975, and joined the Village of Springboro Police Department as a part time police officer. The Clearcreek Township Police Department hired him full time in September 1975 and promoted him almost immediately to sergeant in January 1976. Then, a month later, the Clearcreek Police Chief resigned and Sergeant Johnson was named to be the interim commander. He continued as such until he returned to Springboro as a full time police officer during July 1976.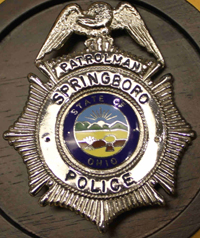 On June 27, 1983, about 12:27 a.m., while driving westbound on State Route 73, he observed two subjects by the bridge on the south side of the road near Fairway Drive. He doubled back and drove east, stopping at the bridge between Edgebrook and Fairway. He exited his vehicle with his flashlight in hand.
The two subjects, Richard "Eric" Grimm and Jonathan D. Collins, began to walk towards his patrol car and saw Patrolman Johnson turn the flashlight toward the rear of his vehicle and yell, "Hold it! Stop!" They then saw the headlights of a pickup truck driven by Michael L. Jennings, 3624 Knollbrook, Franklin, Ohio, as it struck the left rear of the patrol car at almost 56+ miles per hour and then Patrolman Johnson, throwing him almost 39 feet and probably killing him instantly.
Patrolman Johnson was rushed by life squad to Sycamore Hospital in Miamisburg where he was pronounced dead at 1:57 a.m.
Patrolman Johnson was survived by his wife, Brenda Sue, and four children; Karen L. Johnson (21), Sherry L. Johnson (20), Syndra J. Johnson (8), and William D. Johnson (5). His layout was held at the Unglesby Funeral Home in Franklin on June 29, 1983 and burial at Royal Oaks (now Heritage Hills) Memory Gardens in Springboro, with full military honors, on June 30, 1983. The National Law Enforcement Officers Memorial added his name on May 15, 1984.
Also on June 30, 1983 police charged Jennings with Aggravated Vehicular Homicide due to his blood alcohol content was 0.16, which was at the time 60% over the limit for Driving While Intoxicated. He was convicted and sentenced to three months work release in the Warren County Jail. In other words, for 3 months, he slept at night on a jail bed while he continued his livelihood and the Johnson Family went without a husband and father. At last report, Grimm was still living on Knollbrook with his family.
If you have information, artifacts, or image regarding this officer, please contact the Greater Cincinnati Police Museum at Director@police-museum.org.