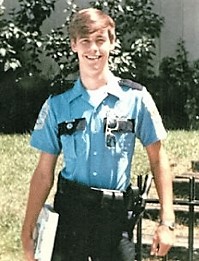 Age: 22
July 1986 to January 21, 1987
BACKGROUND
Jeff Phegley graduated from Colerain High School in 1983. While attending high school, he was active in the American Red Cross and a volunteer at Providence (later Mercy Mt. Airy) Hospital. He was also active in the Hamilton County Sheriff's Office Police Cadet Program.
After graduation, Jeff volunteered for the Republican Party and attended the 1980 Reagan Bush Inaugural Ball. He also worked as an intern for Congressman Michael Oxley.
His first desire was law enforcement and after graduating from the Norwood Police Academy in 1986, he joined the Village of Addyston Police Department. He later joined the Morrow Police Department. On January 21, 1987, Police Officer Phegley traded shifts in order to work for Police Chief Dick Kilburn, who had to travel to Columbus. This also gave him an opportunity to visit his 89-year-old grandmother who had been in the hospital. He was patrolling the village about 2 p.m. when he noticed a vehicle speeding through it.
Anthony Wayne McIntosh had far fewer accomplishments and ambitions in his 22 years of life. In his own words during a 2000 interview he said that had been a wayward, long-haired tough guy who grew up in Morrow and South Lebanon, dropped out of Little Miami High School as a sophomore, had little family direction, and took up drinking, drugs, and petty crime. By mid-January 1987 his life had sunk to such an evil level that he purchased a sawed-off shotgun and boasted to acquaintances that, "the next time a cop stops me, I'm going to make it worth his while." The caliber of his acquaintances being what it was, none notified law enforcement. On January 21, 1987, McIntosh had already consumed eight or nine beers and was speeding through the Village of Morrow.
INCIDENT
Officer Phegley stopped McIntosh just outside of Morrow on Morrow-Rossburg Road. He clicked on the microcassette recorder in his pocket and walked up to speak with the violator. As he did, he smelled the odor of an alcoholic beverage and advised McIntosh that he was under arrest for driving under the influence of alcohol.
McIntosh, six times, refused Officer Phegley's orders to put his hands on the car and there was a physical altercation. McIntosh pushed Officer Phegley to the ground.
Somehow, McIntosh retrieved the shotgun from underneath his front seat, pointed it at Officer Phegley's chest, and pulled the trigger. 158 pellets slammed into Officer Phegley's chest; two of which tore through his heart. Though mortally wounded, Officer Phegley returned four shots from his .38 caliber revolver, one of which struck McIntosh in the shoulder.
McIntosh got into his vehicle, drove away, and left Officer Phegley to slowly die on the side of the road.
OBITUARY
Officer Phegley is the only Morrow police officer to have been killed in the line of duty and was the first in Warren County in 50 years. He was survived by his parents, Joseph and Barbara Phegley of Montfort Heights in Hamilton County, and a brother. He was buried in the Garden of Faith of Lakeview Memorial Gardens in Belleville, Illinois.
INVESTIGATION
Police responded to the scene of the murder and found Officer Phegley's citation book where he had already written McIntosh's name and some identifying information. Officers from several agencies searched the area in and around Morrow and several hours later they found McIntosh hiding in a car being driven by his mother. They arrested him without further incident.
JUSTICE
McIntosh was charged with Aggravated Murder with the possibility of the Death Penalty. Warren County Prosecutor Tim Oliver prosecuted the case. A Springboro lawyer, John D. Smith, defended McIntosh. The defense was that Officer Phegley was bullying him, that Officer Phegley shot him, and that he fired on Officer Phegley in self-defense. The evidence and Officer Phegley's tape recording proved that to be a lie. Eleven jurors voted to convict him of Aggravated Murder with the Death Penalty option. But one would not, so they returned a verdict of Guilty of Murder. On August 17, 1987, he was sentenced to fifteen years to life, plus three years for a gun specification.
He was sent to prison in the Southern Ohio Correctional Facility in Lucasville, where he was involved in several fights and, in 1994, transferred to the North Central Correctional Complex.
Ohio Parole authorities scheduled a parole hearing for McIntosh already in 2000. During an interview with The Enquirer regarding a question about the possibility that he may be denied parole, he replied, "that's okay with me, because I understand that there are things that people expect and what they want and they are vindictive. That's not going to bring Jeff back. It's just destroying another life. Barb and Joe Phegley need to move on with their lives and put the killing of their son behind them." His parole was denied.
Parole was also denied in 2006 and 2010. McIntosh's brother, Troy, who advised that he gets his information directly from McIntosh, wrote in 2013, "I know what happened. He (Officer Phegley) was shot at point blank in the chest. [That's] not possible if the officer is unloading on your back as you're running away. It's just BS. He's done his time. The parole board is corrupt."
McIntosh is currently incarcerated at the Madison Correctional Institute and has another hearing scheduled for 2019.
If you have information, artifacts, archives, or images regarding this officer or incident, please contact the Greater Cincinnati Museum Director at Director@police-museum.org.
This narrative was researched and revised on January 12, 2014 by Cincinnati Police Lieutenant Stephen R. Kramer (Retired), Greater Cincinnati Police Historical Society President, with research conducted by Cincinnati Police Homicide Detective Edward W. Zieverink III, Greater Cincinnati Police Museum Historian, and anecdotal recollections of Gary Griffith, Officer Phegley's life-long friend, and Troy McIntosh, the assassin's brother. All rights are reserved to the Greater Cincinnati Police Historical Society.