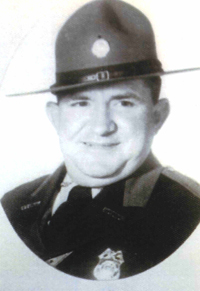 Age: 43
Served: 13 years
1950 to July 16, 1962
On July 16, 1962, at 7:30 p.m., Lawrence F. Dugle (62), of 5041 Eastwood Drive, had a flat tire in front of the Friarhurst Retreat House, 8136 Wooster Road, near Newtown. This location was in a stretch of road often referred to as "Deadman's Gulch." Robert Huxell (21), of 2178 Compton Road, observed Mr. Dugle and stopped to change the tire. At nearly the same time, Mrs. George Pfeiffer, of 101 Redbird Lane, driving her son, Bobby, to a doctor due to a bicycle accident, struck Mr. Huxell's vehicle causing it to strike Mr. Dugle's vehicle, and pinning Huxell between the vehicles.
Deputy Kleinwaechter, 506 Smiley Road, Glendale, responded to the scene, tended to the injured Huxell and placed flares in the road. He also positioned his patrol car with the red light flashing, and then, with flashlight in hand, directed traffic around the vehicles.
At about 8:30 p.m., Donald Gene Hughes (21), of 123½ Main Street, Milford, traveling too fast for conditions, drove his vehicle into Deputy Kleinwaechter, killing him almost instantly. He was dead upon arrival at Mercy Hospital, Mariemont. Hughes was charged with Manslaughter and Reckless Driving and convicted of second degree manslaughter.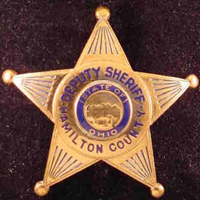 Deputy Kleinwaechter was survived by his wife, Ellen, and four children under eleven; Gary, Teri, Mary, and Gerald. He was also survived by his sister, Alice Mara, and brothers, Edward, Paul, and Frederick. A Requiem High Mass was held at Saint Gabriel Church at 9:30 a.m. on July 20, 1962, and he was buried in Arlington Memorial Gardens. Hamilton County deputy sheriffs and Cincinnati patrolmen served as pallbearers.
Teri Kleinwaechter would eventually join the Hamilton County Sheriff's Office and assisted greatly in this narrative. If you have further information, artifacts, archives, or images of this officer, please contact the Museum Director at Director@police-museum.org.