Sergeant Robert A. Lally | Cincinnati Police Department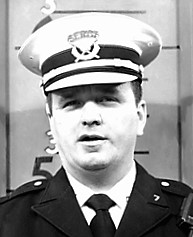 Badge: S114
Age: 37
Served: 19 years
June 18, 1956 to December 8, 1975
Bob was born February 14, 1938, the 2nd youngest of 6 children born to Joseph and Mary Catherine (Finley) Lally.  Joseph died when Bob was 2 years old and Bob's mother raised 6 children from 1 to 12 years old.   He graduated from Elder High School in 1956.
Bob joined the Cincinnati Police Division as the City's 13th Police Cadet a couple of weeks later on June 18, 1956.  He worked in Identification Section and Central Station (both in City Hall) before entering the Recruit Class on October 12, 1959.  He was promoted to Patrolman on March 3, 1960, issued Badge Number 197, and assigned to District 2 (314 Broadway).  During January 1961, Patrolman Lally rotated to District 5 (1012 Ludlow Avenue).  On May 21, 1961, he took a leave of absence to join the National Guard (Armored) and was reinstated to the Division and to District 5 on November 19, 1961.  On February 2, 1966, he was among the first officers promoted to the new rank of Police Specialist and was issued Badge PS-36.  He was transferred to the Criminal Investigation Section February 7, 1971 (222 E. Central Parkway).  He was promoted to Sergeant on November 5, 1972, issued Badge S-114, and transferred to District 7 (813 Beecher Street).  During March 1975 he returned to District 5.  By 1975, Sergeant Lally earned 8 letters of appreciation and/or commendation, was "conscientious to his brother officers", was an "exceptional and tenacious investigator," and "displayed a legendary sense of humor."
Sunday, December 7, 1975, was "Change Day" in the Cincinnati Police Division – the first day of a four-week pay period and the day that reliefs traditionally would rotate to the next shift.  On this Change Day, District Five switched to a modified method of shift deployment called Community Sector Enforcement and, numbers being what they were, the only sergeant scheduled to work was newly promoted Sergeant Michael C. Snowden.  Sergeant Lally, as conscientious as described, chose to change his off days in order that the new sergeant would not be alone on the first day of the new deployment.  He advised Sergeant Snowden to handle roll call, that he and Police Office Bob Oliver would go out together, and later the three would meet somewhere for coffee.  Neither knew at the time that the new sergeant would be thrust into doing the hardest job of all – notifying the widow of a fallen officer.
After midnight on December 8, 1975, Sergeant Lally and Officer Oliver were patrolling the Colerain Avenue and North Bend Road area where there had been a recent spate of burglaries.  They found a vehicle parked behind Top Part Boutique and Struck Audio Co. Ltd. At 5552 Colerain Avenue.  The station wagon was the only vehicle absent of frost and its hood was still warm.  Blankets were spread out in the cargo area as if ready to receive some delicate merchandise.  Several feet from the car was a television repair shop and lights were turned on inside.  It had all the appearances of a burglary in progress.
Of course, it could have been something else, so at 12:55 a.m., Officer Oliver tried by radio to ascertain the registration of the vehicle.  The back lot was lighted and Sergeant Lally and Officer Oliver were in full uniform including their white hats.  Sergeant Lally checked the door to the rear of the TV repair shop (Struck Audio).  He eased open a screen door, checked the door, and found it locked, and withdrew.  Suddenly, someone flung open the door, stuck a 9mm handgun out, and fired a shot.  Sergeant Lally said, "Oh my God, he shot me!"  The bullet missed his bullet-resistant vest and entered his chest.  Officer Oliver returned four shots through the door, striking the shooter in the arm.  He handcuffed him and called for assistance and a Cincinnati Fire Department Rescue Unit.
Rescue 38 transported Sergeant Lally to General Hospital, but he died en route.  He was pronounced by Dr. Palmer at 1:32 a.m. and transported to the Morgue by Police Officer Armstrong (Car 5215) at 2 a.m.
Sergeant Lally left a wife, Cathleen, and two children, Mary Lally (13) and Daniel Lally (11).  A Mass of Christian Burial was celebrated at St. Lawrence Church on December 10, 1975.  Close friends and officers were invited to attend.  Pallbearers were Sergeants Terrence Colley (District 5), Thomas Mullin (District 3), Lester Muse (District 6), William Smith (District 7), Robert Thoss (District 5), and William Vogel (District 5).   He was buried immediately thereafter in Saint Joseph (New) Cemetery.  Cathleen joined him 26 years later during November 2001.
Homicide Detectives Henry "Hank" Snodderly" and Thomas Gardner were officially assigned the case.  The shooter was identified as 35-year-old Richard Struck of 5424 Hamilton Avenue and the owner of the shop.  Struck claimed that he thought Sergeant Lally was a burglar; an unlikely story.  Later he added that he was "falling" and the gun discharged.  He also stated that he had been sleeping, but the rear of his station wagon being open seemed to disqualify that contention.  It was determined later that he was talking on the phone to his insurance agent at the time of the officers' arrival.  Rumors abounded that Struck had been expecting his wife, with whom he was experiencing domestic problems, when he blindly took a shot out the rear door, but that was never confirmed.
After considerable contentious discussions with the Hamilton County Prosecutor, Cincinnati Homicide Detective Snodderly, on December 9, 1975, charged Struck with Involuntary Manslaughter.
Struck was under police guard at General Hospital recovering from his wrist wound.  On December 10, he did not appear for his hearing and Judge Thomas Crush continued the case and held him without bond.
Also on December 10, Cincinnati City Council passed a standing resolution honoring Sergeant Lally.  Sergeant Lally was the 3rd Cincinnati Police officer to be shot and killed in 12 months and the 5th to die of by firearm in 36 months.  Indeed, Cleophus Collins was found guilty in the murder of Police Officer William Loftin the day before Sergeant Lally was killed.  Mayor Bobbie Sterne broke her silence on the case by announcing that Council should consider a study regarding banning handguns.
On December 13, the case was continued again and Struck was ordered held on a $125,000 bond.  Judge Crush also ordered a psychiatric evaluation.  At a preliminary hearing on December 18, 1975, Struck was bound over to the Grand Jury.  On February 4, 1976 the Grand Jury returned an indictment for Involuntary Manslaughter.
Struck was out on bond when the trial started April 22, 1976, 4 months after the incident.  Defense Attorney Harry McIlwain now posited another excuse that Sergeant Lally pulled the door open when Struck unlocked it and that somehow caused the semiautomatic pistol to discharge.  The trial concluded on April 27, 1976 with Judge Frank Gusweiler finding Struck guilty of Involuntary Manslaughter.  On May 28, 1976, 5¾ months since the killing, Judge Gusweiler sentenced Struck to the minimum, 1 to 10 years in prison.  Less than one year later, on April 19, 1977, Struck was paroled.
FAMILY TRADITIONS
Sergeant Lally's siblings included Rose Mary Lally, a 40-year employee of the City of Cincinnati Engineering Department; Ruth Lally, an employee of the Cincinnati Water Works; Edward J. Lally, a longtime employee of the Hamilton County Sheriff's Department and retired Hamilton County Deputy Clerk of Courts; James J. Lally, head of Cincinnati Water Works Security; and Donald Lally, who retired as the Deer Park Police Chief.  Nieces and nephews include; Cheviot Police Chief Joseph Lally (Retired), Hamilton County Sheriff's Deputy Michael Lally; Cincinnati Police Officer Ann Lally; and Judy Lally of the Hamilton County Central Warrant Processing Unit.
EPILOGUE
Sergeant Lally died fifty minutes sooner on the same date as Sergeant Charles Handorf was shot and killed the year before.
The deaths Patrolman David Cole and Sergeant Charles Handorf in 1974 and Police Officer William Loftin and Sergeant Lally in 1975 forever changed the tactical responses of law enforcement officers in the country.  A Cincinnati Police Division Police Officer Survival training program grew from these four tragedies and soon received national attention.  One aspect, the move to include shooting from within arm's reach in firearms training was groundbreaking in the mid-1970s.  It is now common in almost all law enforcement officers' firearms training across the country and required training for all Ohio law enforcement officers.  The Division's Police Officer Survival program was used as models for the national Street Survival Program.
During 1995, Sergeant Charles S. Powers voluntarily surrendered Badge No. S114 and the Department retired it and the number.
Twenty-five years after Sergeant Lally's murder, Police Officer Kevin Crayon was killed yards from where Sergeant Lally was killed.
If you have more information, artifacts, or images for this officer or incident, please contact the Greater Cincinnati Police Museum at Memorial@Police-Museum.org.
© This narrative was revised November 5, 2017 by retired Cincinnati Police Lieutenant Stephen R. Kramer (Retired), Greater Cincinnati Police Museum Director, with anecdotal assistance from retired Cincinnati Homicide Lieutenant Thomas Oberschmidt (Retired) who supervised the investigation of this incident.  All rights are reserved to them and the Greater Cincinnati Police Historical Society.