We Will Not Forget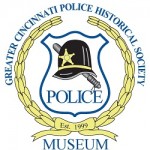 The Greater Cincinnati Police Museum
"Preserving the History of Law Enforcement in the Greater Cincinnati Area"
---
A History of Memorializing Fallen Officers
 
-By Lieutenant Stephen R. Kramer, Retired
Many police departments had wall plaques on interior and exterior walls of police facilities or city halls recalling the men who died in the line of duty and we do not know when or where the tradition started except that it was prior to the 20th Century.  Police also paraded in various cities going back to at least the 19th Century.
In our research, the first semblance of a police memorial otherwise is that of a statue erected in Haymarket Square to commemorate the policemen killed during the Haymarket Riot bombing of 1886.  It was a bronze statue of a policeman, designed by J. J. Gelert, on a pedestal, all of which stood over 20 feet tall at Des Plaines and West Randall Streets; the scene of the riot.   The statue was partially destroyed by a bomb during 1969 and totally destroyed on October 6, 1970 by another bomb, for which the Weatherman faction of the Students for a Democratic Society claimed responsibility.  After paying $68,000 a year in round-the-clock protection, the statue was moved to inside the Chicago Police Headquarters in 1972.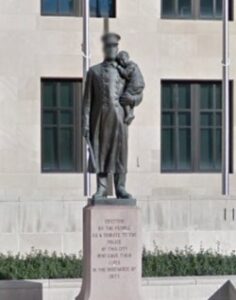 The first statue commemorating all line of duty deaths in a city seems to be that which was announced on January 29, 1909 in Kansas City, Missouri.  It was another bronze statue of a policeman on a pedestal and erected at Paseo and 15th Streets with the names of the fallen officers engraved granite tablets on three sides.  It cost about $12,000 (more the $300,000 in today's dollars).  It was later re-sculpted depicting a child being lifted by the officer and currently stands in front of Police Headquarters at 1164 Locust Street.
On June 6, 1910, 3000 policemen in uniform attended the first Police Memorial Service in New York City's St. Patrick's Cathedral and thereafter became an annual event.  By 1913, the attendees numbered 700 and it was moved to St. Joseph's Church in Brooklyn.  Also in 1913, during June, Seattle held its first police memorial parade and ceremonies.  They also decorated the graves of the 7 Seattle policeman who had died in the line of duty to that point.  On December 27, 1914, the Pittsburgh Police Bureau became the 2nd to conduct a memorial service for its departed officers at the First Presbyterian Church.  The Pittsburgh Police Quartet also participated.  By 1915, New York's memorials had apparently split into separate Catholic and Jewish affairs.  Perhaps this is why the memorial in 1916 was held at the Metropolitan Opera House on May 12, 1916.  The New York Police Band and Glee Club also took part.  During 1917, the ceremonies were held at the Cypress Hills Cemetery, known as "Police Arlington" and was sponsored by the Metropolitan Police Benevolent Burying Association.
During 1918, discussions were being held in Washington DC regarding a memorial commemorating police officer killed in Washington DC.  A small wooden fountain was finally erected in 1942 and has since fallen into disrepair.
On February 2, 1919, the Cincinnati Police Department became the 3rd to hold a memorial service for active and retired officers who had recently passed away.  It was, to our knowledge, the first memorial service by or for local law enforcement officers in our region.  We only know if it from a program in our archives for the "Second Annual Memorial Service of the Cincinnati Police Department" held on January 29, 1920 at Music Hall under the auspices of the Policeman's Welfare Association.  This memorial paid tribute to the 9 active officers and 7 retired officers who had passed away during the previous 12 months.  Patrolman George Studer was the master of ceremonies.  A Police Quartet, consisting of Patrolmen Fred Orth, Arlington Beebe, Arthur Beierlein, and Edward Beierlein, sang Somewhere a Voice is Calling.  Patrolman Orth also sang, Consider and Hear Me.  As Chief Copelan called the roll of the dead, a bell tolled and the officer's picture flashed on a screen.  Patrolman Edward Beierlein sounded Taps.
There was no annual service during 1921; no doubt because Safety Director Charles E. Tudor ordered the Policeman's Welfare Association dissolved during November 1920.
The "Third Annual Memorial Service of the Police Department" was held at the Emery Auditorium on February 17, 1935 and sponsored by the Police Memorial Association.  The Police Memorial Quartet, now consisting of Henry E. Dean, Fred A. Orth, Leonard G. Bedel, and Carl H. Lutz, sang Vacant Chair.  Patrolman Orth also sang, The Lord is my Light.  Colonel Eugene T. Weatherly called the roll of 2 active members and 18 retired members.  They listed in the program the 201 officers who had died in the years between 1920 and 1935.  Taps was played by Motor Patrolman Jesse Roy Hicks.
Eight days later, Motor Patrolman Hicks crashed his motorcycle chasing a speeder and died.  Taps was played for him and two other officers who died in the line of duty during 1935 at the 4th Memorial held on February 23, 1936.  This one included 8 active members and 18 retired officers.  This service included Department Ensemble and Taps was played by five buglers, including Patrolman Harry Hicks, Jesse's brother, five drums, and chimes.
Police Memorial services in 1937 were held at the Taft Auditorium on March 21st.  Police paraded to the site from City Hall which may be the first time that a police parade was incorporated into the Cincinnati memorial ceremonies.  One thousand people attended.
In 1938 Police again paraded to the Taft Museum, led by the Police Drum Corps.  Taps was played by Patrolman Harry Hicks.  Roy Hick's daughter, Mollie Hicks, participated in the ceremonies.  We believe the memorial tradition lasted only a few more years.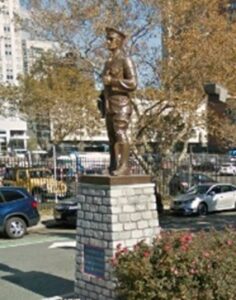 Also about 1936, a police memorial statue was erected in a Jersey City, New Jersey cemetery.  On June 3, 1961, two boys hacked it to pieces and took them from the cemetery to sell them for scrap.  The statue was valued at $17,000; $137,729 in today's dollars.  It was welded back together and remained in place until March 10, 1975 when it was sawn off at its pedestal again.  The suspects and pieces were found again and it was restored again.  This time it was placed, on August 17, 1976 on a pedestal at Montgomery and Henderson Streets, where it remains.
We believe it was 1952 and Colonel Stanley Schrotel who revived the tradition in Cincinnati of observing a memorial to fallen officers with a parade.  We know nothing of these parades except that they probably began or terminated at Police Headquarters in City Hall.
During 1955, a police memorial statue of "modernistic" design, built by Bernard Rosenthal, was installed at the police headquarters.  City Councilman Harold Harby said he would accept an offer of $10,000 (full payment of the statue) to move it to Philadelphia because it was "an insult to the American people" as it didn't "resemble anything I've ever seen from California or Pennsylvania."
On February 20, 1955, Fraternal Order of Police President Albert Scholl presented to the Division a Cincinnati badge-shaped plaque in memory of those who gave their lives during their duty.
On May 4, 1963, United States President John F. Kennedy, in Proclamation Number 3537, designated May 15, 1963 and May 15 of each subsequent year to be Peace Officers Memorial Day and the calendar week in which it falls, Police Week.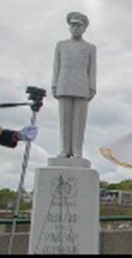 On August 23, 1964, The Fitchburg Police Relief Association unveiled its memorial statue, designed by Captain Bernard J. Keenan, at Depot Park in Fitchburg, Massachusetts.
On Peace Officers Memorial Day 1976, the Fraternal Order of Police, Queen City Ladies Auxiliary Number 29 honored the then 88 known Cincinnati law enforcement officers who had "met violent or accidental death in the Performance of Duty" by dedicating a bronze statue of a police officer setting atop a marble pedestal in front of Cincinnati Police Headquarters (310 Ezzard Charles Drive).  It cost about $9000 ($39,000 in 2017 dollars).  During 1975, the committee was chaired by Mrs. Mary A. Hummeldorf and their fundraising included handicraft and bake sales and private donations.  By 1976, Co-Committee Chairs were Mrs. June Gibeau and Mrs. Betty Sue Daugherty.  The 4' statue on a 3' pedestal was sculpted by German-born George F. Yostel.
Representatives of five families of recently deceased officers – Sergeant Robert Lally, Police Officer William Loftin, Sergeant Charles Handorf, Patrolman David Cole, and Sergeant Albert Weller – were in attendance.  Speakers at the dedication ceremony included Hamilton County Sheriff's Deputy Danny Scholl, Cincinnati Enquirer President William Keating, Police Chief Myron J. Leistler, and FOP President Elmer Dunaway.
After the erection of the larger memorial across the street, the statue was donated to the Greater Cincinnati Police Museum and still stands at the original museum location (Cincinnati Police Federal Credit Union) at 959 W. 8th Street.  The plaster model for the statue lay in near ruins in the Daugherty's basement for decades until the Greater Cincinnati Police Museum retrieved it and took it to Police Specialist Thomas Kellison (Retired) who resurrected and painted it.  It now stands in the Memorial Hall of the Greater Cincinnati Police Museum.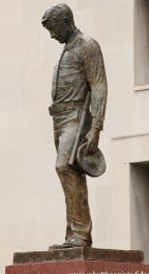 On May 12, 1988, St. Louis unveiled a 9½-foot bronze police officer sculpted by Rudy Torrini of St. Louis and placed in the west plaza of the Civil Courts Building at Tucker Boulevard and Market Street at the cost of $350,000 raised by local businessmen.  The statue depicts a police officer with his head bowed and his hat held by his dangling right hand.  The placement was opposed by the Regional Arts Commission, but the Police Department persevered and overcame the objection.
January 1988 – Immediately after being installed as the new Fraternal Order of Police President, Police Officer Vincent L. Demasi determined to create the largest police memorial in the United States (soon to be 2nd largest after St. Louis unveiled theirs).  The FOP Treasurer, Police Officer Daniel K. Louder, chaired the committee which included Constitution and Bylaws Chairman, Lieutenant Stephen R. Kramer, and Inner Guard, Police Officer Leonard LaBrecque.  The memorial would cost $157,000 ($328,500 in 2017 dollars) and include the 95 then known officer who died in the line of duty since 1846 etched into black obelisks.
Lieutenant Kramer chaired a subcommittee to determine how the officers, listed in the Cincinnati Police Division's Annual Report since 1938, met their deaths and insert very brief descriptions in the dedication program.    Ken Bradford, of Formit Company, designed the 9' bronze statue and it was sculpted by Eliftherios Karkadoulias.  Officer Louder was inspired to engrave the names of all the LODDs in black granite after seeing the Vietnam Memorial in Washington DC.  He was also the model for the statue, except the face, which was intended to be generic.  The badge number is that of Police Specialist Dennis Luken (Retired) who won a fundraising raffle to have his number inscribed.  Numbered Memorial knives were sold, as were individually engraved bricks to help pay for the memorial.  On October 5, 1988, Cincinnati City Council approved the donation of land across from District One for building the memorial.  By December 1988, Turner Construction Company agreed to $22,000 worth of construction to build the memorial.  Mayor Charles Luken proposed a $25,000 donation by the City.  Finally, after 29 months, the memorial was unveiled on Police Memorial Day, May 15, 1990 by Officers Demasi and Louder, Police Chief Lawrence E. Whalen, and Police Officer Clifford George's widow, Mrs. Barbara George.
Early in 1995, Cincinnati Police Academy Commander, Captain Christopher Robertson, Sergeant Thomas Waller, Recruiting Unit, and Specialist Richard W. Gross, Criminal Investigation Section, collaborated to request of Police Chief Michael C. Snowden to retire the badges of law enforcement officer who had died in the line of duty and create with them a police memorial at the Police Academy.  Chief Snowden agreed to have it researched and sent it to Lieutenant Kramer who was, by then, the Assistant Planning Section Commander.  Kramer found a 1950 Cincinnati Municipal Code Ordinance directing the retirement of badges of Cincinnati Police and Fire personnel who died in the line of duty and Chief Snowden directed that he coordinate the retirement of all such badges and badge numbers since 1950 and to plan for their inclusion in a memorial.
Lieutenant Kramer formed an ad hoc committee, including Captain Robertson and Sergeant Waller, and Police Officer James "Mike" Hillgrove (Retired), who was, at that time, working for Pceizonka's Unlimited, Inc., a vendor for plaques and such.  The committee determined, and the Chief agreed, to include the officers' reliefs on the plaques and Police Officer Carl Rauchenberger (Retired) was brought in to do the artwork.  The plaques and memorial were presented officially to Chief Snowden at the Police Week ceremonies in 1995.
Early in 1997, Chief Snowden approved a request from Lieutenant Kramer, now of District 3, and Sergeant Thomas A. Lind, Computer Unit, to create the world's first law enforcement website – www.cincinnatipolice.org.  It was published on April 1, 1997 with the world's first line of duty death memorial page.  On January 8, 2000, the site was taken over by the Regional Computer Center, but the memorial was maintained by the Police Department.  During 2002, the Greater Cincinnati Police Historical Society maintained a duplicate site and expanded it to include the Greater Cincinnati area.  Originally, like with the 1990 Police Memorial program, there were a few lines for each officer describing his death, but by 2002 there were paragraphs, and by 2009 full narratives describing their lives, their ancestors' and their survivors' lives.
The Greater Cincinnati Police Historical Society incorporated during August 1989 and its first order of business was to create the only regional law enforcement museum in the United States and it first display would be of the 160+ officer who died serving the communities of Hamilton County and all contiguous counties in Ohio, Kentucky, and Indiana.  The museum opened on June 21, 2006 and the memorial was the first exhibit inside the main entrance.
On May 13, 1998, perhaps the most striking memorial was dedicated in Carson City, Nevada.  Its campus is as large as Cincinnati's and the statue potrays a police officer kneeling and holding a downed officer.
During the 21st Century, other interests in the tristate area have erected memorials; Northern Kentucky, Springboro, Monroe, Warren County, Lawrenceburg, etc.  But during Police Week, all in the region are invited to the Cincinnati Police Memorial services and after the parade, to the Greater Cincinnati Police Museum where Demasi, Gross, Lind, and Kramer are still volunteering their time and treasure to continuously update and improve the physical and electronic memorials.