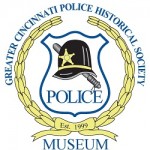 The Greater Cincinnati Police Museum
"Preserving the History of Law Enforcement in the Greater Cincinnati Area"
---
Sergeant John W. McNally, Jr.020)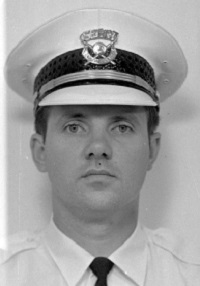 John was born on October 17, 1942 in Cincinnati to John and Madeline (Welbrock) McNally, Sr.  He graduated from Elder High School during 1960.
John joined the Cincinnati Police Division on September 11, 1961 as an 18-year-old Police Cadet.  While attending the Salmon P. Chase College, majoring in Police Science, Cadet McNally worked at Central Station (City's jail in City Hall) and Traffic Bureau (also at City Hall).
On August 25, 1962, he married Sharron V. Fuqua.
On March 23, 1964 he was appointed as a Police Recruit.  He was promoted to Patrolman on June 28, 1964, issued Badge 373 and assigned to District 2 (314 Broadway).  Patrolman McNally was rotated to District 3 (3201 Warsaw Avenue) on July 3, 1966.  Also in 1966, he starred in a WCET television production called "Profile in Blue."  During July 1967, he transferred to the Crime Bureau as its Prosecutor's Office Liaison Officer.  He was promoted to Police Specialist on April 14, 1968 and issued Badge PS-51.  On January 1, 1970, he transferred to the Legal Section.
Four months later, he was promoted to Sergeant, issued Badge S-97, and assigned to District 1 (310 Lincoln Park Drive).  Six months after that, Sergeant McNally transferred to Research and Development in charge of federal grants.  On May 18, 1974, Sergeant McNally and Police Specialist Clarence Satterfield graduated from Chase Law School with Juris Doctor degrees.  On November 9, 1974, Sergeant McNally was admitted to the Ohio Bar State Association.  He retired January 30, 1975 with thirteen years of service and twenty letters of appreciation and/or commendation.
Staying in law enforcement, Sergeant McNally Joined the Hamilton County Prosecutor's Office under Prosecutor Simon Leis.  Within a year, his police training came into play during a wild outburst by a defendant in Judge Wood's room.  Prosecutor McNally wrestled the man to the ground before the bailiffs could react.
Soon after, he went into private practice working.  During his law career, he served a term as president of the Young Lawyer's Section of the Cincinnati Bar Association until 1979, during the early 1980s as chairman of the criminal committee of the Cincinnati Bar Association, and from 2004 to 2005 as Association's president.  He also worked as a magistrate for Butler County, represented a few fire departments, and played softball into his fifties.
During late 2019, Sergeant McNally developed brain tumors.  He passed away peacefully, with his family at his side, on Sunday, March 15, 2020 at the age of 77.
He was predeceased by his sister, Martha Seibel.  Sergeant McNally is survived by his wife of 57 years, Sharron (Fuqua) McNally; children, Colerain Township Fire Captain John (Kathy) McNally III, Kelli (Stephen) Brown, and Timothy (Connie) McNally, Candace (Don) Duke, fourteen grandchildren, and two great-grandchildren.
Visitation will be held 9:00 a.m. to 10:30 a.m. on Friday, March 20, 2020 at Mueller Funeral Home at 6791 Tylersville Road in Mason.  Mass will follow at St. Susanna Church, 616 Reading Road, in Mason.
Memorial donations can be sent to Hospice of Cincinnati, P.O. Box 633597, Cincinnati, OH 45263.
© 2020 – All rights reserved to LT Stephen R. Kramer RET and the Greater Cincinnati Police Museum