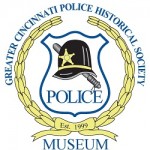 The Greater Cincinnati Police Museum
"Preserving the History of Law Enforcement in the Greater Cincinnati Area"
---
Sergeant James Clarence Van Pelt Jr.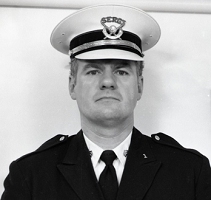 Jim was born December 9, 1937 to James Clarence and Ruth B. Van Pelt of Mt. Adams.  He attended Withrow High School and graduated during 1956.
While attending high school, Jim worked as a stock boy at Alber's Super Market on Delta.  After graduating he processed meat at E. Kahn's & Sons on Spring Grove.  He did not like that type of work, so he took a job as a truck driver at C. Rice Packing Company from June 1957 to May 1960.
Also after high school, Jim joined the Ohio National Guard June 4, 1956.  He trained as a truck driver and was once named "Best Soldier" at Camp Breckenridge.  He was honorably discharged June 4, 1959.
Jim joined the Cincinnati Police Division as a Police Recruit on May 29, 1960.  He was promoted to patrolman on September 11, 1960, issued Badge 698, and assigned to District 6 (3295 Erie Avenue).  On December 10, 1961 he was rotated to District 2 (314 Broadway).  Patrolman Van Pelt transferred to Vice Control Bureau in 1965.  After the first competitive examination for the rank, he was promoted to Police Specialist and issued Badge PS-112 on February 27, 1966.  Specialist Van Pelt transferred to District 1 (310 Lincoln Park Drive) in 1971.  He was promoted to Sergeant on November 5, 1972 and issued Badge S-119.  He transferred to District 2 (Erie Avenue stationhouse re-numbered) in 1977.  Two years later, he returned to District 1.  Sergeant Van Pelt transferred to the Fraud Squad at the Criminal Investigation Section during 1986.  His commander assessed him as "one of the best sergeants I have ever known."  He retired on August 3, 1991 with 34 years of service to his country and community and 41 letters of appreciation and/or commendation; including seven from police chiefs and one each from a Hamilton County Sheriff and Cincinnati Safety Director.
During his police career, he began selling real estate and continued that career after his retirement with Comey and Shepherd.
Sergeant Van Pelt passed away at home at 3 p.m. on January 14, 2020 at the age of 82.
He is survived by his wife of 62 years, Nancy A. (Kleinwachter) Van Pelt; children, James C. (Martha) Van Pelt, Jeff A. (Delores) Van Pelt, Terri (Cincinnati Police Officer/Dispatcher Mark) Yontz, and Lynn (Larry) Schlanser; grandchildren, Erin, Andrew, Tim, Tori, Brian, Alan, Nick, and Tiffany; five great-grandchildren; and siblings, Janice, Cindy, and Johnny.
Visitation will be held 5 to 8 p.m. on Monday, January 20, 2020 at T. P. White & Sons Funeral Home at 2050 Beechmont Avenue.  A FOP service will be held at 8 p.m.  A Mass of Christian Burial will be celebrated at 10:30 a.m. on Tuesday, January 21, 2020 at Guardian Angels Church in Mount Washington.
Memorials may be made to the Greater Cincinnati Police Museum, 308 Reading Road, Suite 201, Cincinnati, OH  45202 or Autism Speaks Cincinnati.
© 2020 – All rights reserved to LT Stephen R. Kramer RET and the Greater Cincinnati Police Museum