Police Officer Richard Carl Vande Ryt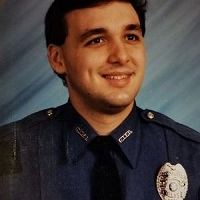 Rich was born June 26, 1970 to George C. and Dorothy Vande Ryt.
Rich joined the Green Township Police Department as a Patrolman on September 17, 1991.  Officer Vande Ryt resigned in 1998 to pursue a career in law.
Officer Vande Ryt earned a Juris Doctor degree at Salmon P. Chase law school and was admitted to the Ohio Bar during 2002.
He passed away suddenly on Monday, March 16, 2020 at 49 years of age.
He was predeceased by his father, George C. VandeRyt, and brothers, Richard John (Jessica) VandeRyt and James Frances VendeRyt.  Officer Vande Ryt is survived by his mother, Doloris Ann (Victor) Ritze; siblings, Angela (Rick) Schmidt, George L. (Michelle) VandeRyt, Jeanne (Dennis) Hille, Mary Ann (Joseph) Kunkel, Karen VandeRyt (Jeff Winningham), Julie (Daniel) Burwinkel, Rose (Michael) Kuebler-Volz, and John (Jessica) VandeRyt.
Visitation was held March 20, 2020 at Meyer Funeral Home in Bridgetown.  A Requiem Mass was celebrated on March 21, 2020 at St. Gertrude the Great in West Chester.
Memorials may be made to The Shield, 7149 Ridge Road, Cincinnati, OH 45237; Responder Rescue Mission, 3711 Mexico Road, St. Charles, MO 63303; or St. Gertrude the Great, 4900 Rialto Road, West Chester, OH 45069.
© 2020 – All rights reserved to LT Stephen R. Kramer RET and the Greater Cincinnati Police Museum