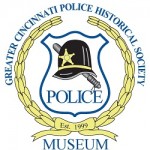 The Greater Cincinnati Police Museum
"Preserving the History of Law Enforcement in the Greater Cincinnati Area"
---
Police Officer James Edward Condo Jr.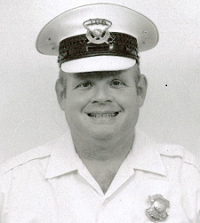 Jim was born September 16, 1949 to James E. and Dorothy (Walker) Condo, Sr.  He attended Purcell High School and graduated during 1967, then the University of Cincinnati, majoring in History.
During high school, he worked as a groundskeeper or houseman alternatingly at the Hyde Park and Crest Hills Country Clubs.  He married Jeane Laake on January 26, 1973.
Jim joined the Cincinnati Police Division as a Police Recruit on July 1, 1973.  He was promoted to Patrolman on November 25, 1973, issued Badge 106, and assigned to District 6 (3295 Erie Avenue).  Officer Condo was rotated to District 1 (310 Ezzard Charles Drive) on January 5, 1975.  On February 1, 1976, he transferred back to District 6 (later re-designated District 2).  Officer Condo was assigned to the Youth Aid Section as a School Resource Officer (SRO) on September 2, 1984.  He remained an SRO the rest of his career.  Officer Condo retired on October 22, 1998 with 25 years of service – 13 as an SRO – and 31 letters of appreciation and/or commendation.
Officer Condo then went to work for Purcell High School for seventeen years.  He also volunteered for the Guardian Angels and St. Rose parishes for many years.
He contracted aggressive Alzheimer's and Parkinson's diseases.  Officer Condo died at 3 a.m. this morning, February 4, 2020 at the age of 70.
A visitation will be held 1 to 3:30 p.m. on Saturday, February 8, 2020 at T. P. White and Sons Funeral Home at 2050 Beechmont Avenue.  A FOP service will be held at 3:15 p.m.  A Mass of Christian Burial will be celebrated at 4 p.m. at St. Rose Church at 2501 Riverside Drive.
Officer Condo is survived by his wife of 47 years, Jean (Laake) Condo; children, David (Monica) Condo, Rebecca (Scott) Reckers, and James Condo III; grandchildren, Caroline Reckers, Emily Reckers, and Amanda Reckers; and siblings, Michael Condo, Tom Condo, Mary Condo-DeRosa, Candis Condo, and Kathy Condo.
Memorial donations can be made to the Purcell Marian High School Scholarship Fund [specify "James Condo" and add "For Scholarship Fund" in the "Note" section].
© 2020 – All rights reserved to LT Stephen R. Kramer RET and the Greater Cincinnati Police Museum