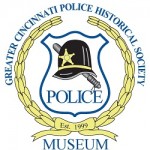 The Greater Cincinnati Police Museum
"Preserving the History of Law Enforcement in the Greater Cincinnati Area"
---
Police Officer Harold R. Hipple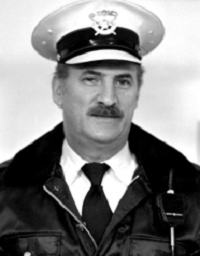 Harold was born January 7, 1929 in Cincinnati, the last of six children born to Charles A., a machinist, and Florence Hipple.  He attended a graphic arts and printing school from 1944 to 1948 and finished high school education at Western Hills High School in 1948.
While attending school, he worked as an attendant at Kaufman Sohio on Beekman Street from 1947 to 1949.  He then took a position as a chauffer for Rex Engineering Company.
He was drafted on January 25, 1951 into the United States Army for the Korean War.  He served overseas for 29 months in the Military Police.  Corporal Hipple was honorably discharged during November 1953 with a Good Conduct and Occupation and Defense Medals.
He returned to a Sohio service station on Tennessee Avenue.
Harold joined the Cincinnati Police Division as a Police Recruit on July 11, 1954.  On October 11, 1954 he was promoted to Patrolman, issued Badge 504, and assigned to District 2 (314 Broadway).  He was rotated to District 5 (1024 York Street, then 1012 Ludlow Avenue) on April 15, 1956 and stayed there almost two decades.  Another officer described him as "one of the physically strongest, calmest, restrained officers I ever worked with.  Impossible not to like this copper."  During 1973, he transferred to Police Communications Section.  He then transferred to District 3 (3201 Warsaw Avenue) on May 25, 1975.  Officer Hipple retired on September 6, 1981 with thirty years of service to his country and community and seventeen letters of appreciation and/or commendation.
After retirement, he sold real estate for West Shell Realty.
After retirement, he sold real estate for West Shell Realty.
Officer Hipple passed away peacefully on Tuesday, February 18, 2020 at the age of 91.
Officer Hipple is survived by his chilren, Jeanette (Mark) Dole, Larry Hipple, Greg (Diana Jessup) Hipple, and Peggy "Kit" (Mike) Slonkosky; grandchildren, Chris Lehman, Kyle Lehman, Tony Castrucci, and Chelsea Robben; and five great-grandchildren.
A visitation will be held 10:30 to 11:30 a.m. on Monday, February 24, 2020 at Paul R. Young Funeral Home at 7345 Hamilton Avenue in Mt. Healthy.  A FOP service will be held at 11:15 a.m.  A Funeral Service will be held at 11:30 a.m. with entombment to follow at Gate of Heaven Cemetery.
© 2020 – All rights reserved to LT Stephen R. Kramer RET, SGT Rudolph Gruenke RET, and the Greater Cincinnati Police Historical Society