Detective William Lee Brewer | Clermont County Sheriff's Office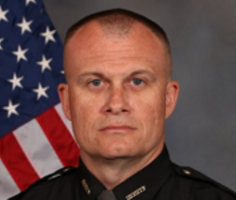 Detective William Lee Brewer
Age:     42
Served: 20 years
October 19, 1998 to February 2, 2019
OFFICER
Bill was born January 14, 1977 to William Lee and Angie Brewer, Sr.  He attended Williamsburg High School and became one of the top athletes in the area.  Starting his sophomore year, he was designated as a defensive back on the varsity team.  After losing the first two games, the coach decided to change to a run-and-shoot offense with Bill as quarterback.  He ended up passing for almost 1200 yards in their next eight games.  The Associate Press gave him an honorable mention in the Region's Division V All District Teams competition.  As a junior, he was he was named quarterback of the Division VI First Team.  He was also an outstanding basketball and baseball player.  He graduated in 1996 and was later inducted into the Williamsburg High School sports Hall of Fame.
Bill joined the Clermont County Sheriff's Office on October 19, 1998.  On December 29, 2015, while trying to arrest a Theft suspect who was resisting, Deputy Brewer was struck by a car traveling about 30 miles per hour.  He was taken to the hospital with non-life-threatening injuries.  On May 15, 2017, Deputy Brewer was awarded a Merit/Bravery Award by the Clermont Chamber of Commerce Foundation.  On December 3, 2018, Deputy Brewer was transferred to the Investigations Section.  By 2019, Detective Brewer had completed 20 years of service to Clermont County.
MURDERER
Wade Edward Winn was born September 12, 1995 in Saint Bernard.  He attended the School of Creative and Performing Arts in Cincinnati.  We are unaware of his juvenile record, but as an adult he started out at 19-years-old with misdemeanor marijuana convictions.  A couple of years later, he was charged with Robbery in Hamilton County, but the Grand Jury did not indict him.  He was arrested in May 2018 on charges of carrying a concealed weapon, drug possession, and driving with a suspended license, but those charges were also dropped.  He was convicted in August 2018 on a charge of improperly handling firearms in motor vehicle.  On February 2, 2019, he was out of jail and high on drugs.
INCIDENT
Clermont County deputies were dispatched for a welfare check at 6:56 p.m. on Saturday, February 2, 2019 to Winn's apartment on St. Andrews Drive in Pierce Township.  He had called 9-1-1 stating that there was a man inside who refused to leave, that he had weapons in the apartment, and that he was suicidal.  Officers from multiple agencies responded.  They were unable to contact Winn; likely due to Winn's intent that officers would force entry to check on his welfare.  When officers did not attempt entry, at 8:15 p.m. gunshots were fired from inside the apartment.  It still was not apparent to Pierce Township Police Department personnel that he was trying to draw them into the apartment, but it was apparent that it was a hazardous situation.  They requested that the multiagency Clermont County Special Response Team (SRT) respond; which it did at 9:25 p.m.  They negotiated with Winn and Winn was live on Instagram.
Winn set up an ambush.  Negotiations seemed to deteriorate and, at 10:37 p.m., after talking of suicide, a single shot was heard again.  Officers heard gurgling sounds, then silence.  They were forced to decide between letting him die or possibly falling for a ruse.  Doing nothing was not an option.  They entered his apartment to provide emergency medical assistance.  As they did, Winn, who had positioned himself in another room, fired a fusillade of bullets through a wall in an attempt to kill the deputies.  Detective Brewer and Lieutenant Nicholas DeRose were hit.  Detective Brewer was hit twice; once in the lower leg and the other just below his ballistic vest.
DEATH
Officers on the scene broadcast, "Officer down!  Officer down!"  They rushed to Detective Brewer and yelled, "Bill, stay with us! Bill, stay with us!"  Officers requested that Air Care respond, but they were unable due to the weather.  He was transported to Mercy Hospital in Anderson.  Lieutenant DeRose was transported to University of Cincinnati Medical Center.
Detective Brewer was very soon after arrival pronounced dead.  Detective Brewer is the only Clermont County deputy to have been murdered in the line of duty.
CONTINUING INCIDENT
With a man down and their commander in the hospital, SRT personnel reached out to recently retired SRT Commander Douglas Ventre.  Gunshots continued throughout the night and early morning hours.  Once Ventre arrived at the scene, the deputies continued to try to talk with the suspect and fired tear gas canisters into the apartment. They were met with more gunfire.
In the seventh hour, Ventre assessed the situation and the condition of his team and called Assistant Cincinnati Police Chief Paul Neudigate asked for assistance from the Cincinnati SWAT team (of which he had also once been in command).
Shots continued to be fired as late at 5 a.m.  With the SWAT and SRT teams together, the leadership decided to use a ram extension on an armored vehicle to break open the window of the apartment so they could at least see the suspect.  Intense gunfire came from the apartment sending SRT and SWAT personnel scurrying for cover behind the armored vehicle.
The teams continued to take down portions of the wall with the ram until the deputies and officers could see the suspect.  Winn continued to hide behind a mattress and officers could not know if there was a hostage concealed with him.
New volleys of tear gas and pepper balls were lobbed into the apartment, but the suspect remained hidden.  Then a fire started.  Winn worked to turn it into a full-grown blaze.  Then, unarmed, he leaped from the building.
Deputies took him into custody and Anderson Township Fire Department firefighters rushed in to extinguish the blaze.
EPILOGUE
At 6:36, a law enforcement spokesman announced that they had the suspect in custody.  Firefighters were called to put out the fire.
Lieutenant DeRose had, by then, been treated and released.  Counter to medical advice, he returned to Clermont County to assist in the investigation.
The Ohio State Fire Marshal was called in to investigate the fires and the Ohio Bureau of Criminal Investigations (BCI) investigated the criminal offenses.
FUNERAL
Detective Brewer was survived by his wife of 13 years, Jamie (Hensley) Brewer; son, Braxton Brewer (5); parents, William and Angie Brewer; brother, Michael Brewer; and parents-in-law, James and Mary Noll.
A procession of police vehicles from many jurisdictions escorted Detective Brewer from the Mercy Hospital to the Hamilton County Morgue for an autopsy.  Another similar procession, later in the morning, took him to E. C. Nurre Funeral Home in Amelia.  Hundreds lined the route along the way.
Ohio Governor Mike DeWine, on Sunday, February 3, 2019, ordered flags to be lowered to half-staff at the Ohio Statehouse in Columbus and Clermont County to honor Brewer's service until sunset the day of his interment.  Sheriff Steve Leahy said, "Deputy Brewer gave his life attempting to help a person who was admittedly suicidal.  This will forever change the atmosphere of the Clermont County Sheriff's Office."
A four-hour public visitation was held on Thursday, February 7, 2019 at Mt. Carmel Christian Church at 4110 Bach Buxton Road in Batavia.  Funeral services were held on Friday morning, February 8, 2019.  Interment followed at Pierce Township Cemetery.
JUSTICE
Winn was held overnight without bond at the Clermont County jail on charges of aggravated murder and attempted aggravated murder.  He appeared the next morning in Clermont County Municipal Court and denied the charges.  Prosecutor Miller advised they would seek the death penalty.  Bond was set at $10 million.  Winn was represented by Attorney J. Ravert Clark.  A preliminary hearing was scheduled for February 13, 2019.
The Clermont County Grand Jury indicted Winn on fourteen counts, including Aggravated Murder and Attempt Aggravated Murder for taking shots at six other officers during the standoff.  He pleaded not guilty at his Court of Common Please arraignment.
On September 23, 2019, Clermont County Common Pleas Court Judge Anthony Brock permitted Winn hopefully his last plea deal; to plead guilty to one count of Aggravated Murder and six counts of Attempt Aggravated Murder with the understanding that he would not be tried sentenced to death.  Both the defense and prosecutors agreed to the plea.
Judge Brock sentenced Winn to life in prison without the possibility of parole four Aggravated Murder and an additional 115 years on the Attempt Aggravated Murder charges, to be served consecutively with his life sentence.
If you know of any information, artifacts, archives, or images regarding this officer or incident, please contact the Greater Cincinnati Police Museum at Memorial@Police-Museum.org.
© This narrative was revised September 23, 2019 by Cincinnati Police Lieutenant Stephen R. Kramer (Retired), Greater Cincinnati Police Historical Society Vice President with assistance from personnel close to the incident and investigation.  All rights are reserved to him and the Greater Cincinnati Police Museum.