Corporal Adam Samuel McMillan | Hamilton County Sheriff's Office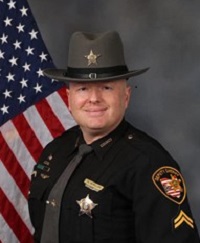 Age:        42
Served:    19 years
2001 to October 23, 2020
OFFICER
Adam was born September 20, 1978 to Kevin William McMillan and Rebecca Marie (Merchant) McMillan.
Adam's father and uncle were law enforcement officers.  The blue blood descended another generation when Adam and his sister went into law enforcement.
Adam graduated from the Great Oaks Police Academy in 2000 and joined the Hamilton County Sheriff's Office in 2001 as a Corrections Officer.  His strong work ethic and drive resulted in him being promoted to Patrol Clerk on May 6, 2004.  He was then promoted to Patrol Officer four months later on September 23, 2004.  On April 11, 2013 Deputy McMillan was transferred to Traffic Safety in Anderson Township.  He was promoted to Corporal on December 28, 2017, remaining in the Anderson Township Traffic Safety Unit.
Each year Corporal McMillan continued to be one of the more productive officers in the Traffic Safety Unit.  During 2019 he investigated 218 crashes and had 821 traffic contacts.  He routinely volunteered either to be on call or to assist with accidents outside his assigned area.
By the fall of 2020, Corporal McMillan had served Hamilton County for nineteen years, earned four Sheriff Commendations for heroic efforts, saving lives, and/or taking dangerous drug dealers off the streets, and received 21 letters of appreciation from citizens.  He was, as one citizen remarked, "an exemplary ambassador to" the Hamilton County Sheriff's Office and exhibited a "commitment to excellence."
Corporal McMillan also participated three times in the Police Unity Tour; an annual event whereby he, along with hundreds of other law enforcement officers from around the county, over the span of several days, cycled from New Jersey to Washington D.C. (about 250 miles) to participate in Peace Officers Memorial Day ceremonies at the National Police Memorial honoring more than 22,000 officers who have died in the United States due to their service to our communities.
During the ceremonies of May 2021, his name will be added to the Memorial.
INCIDENT
Just before sunset, at 6:19 p.m. on October 8, 2020, Corporal McMillan was westbound on Beechmont Avenue when he apparently did not see the red light and drove his cruiser into an eastbound SORTA Metro bus attempting to make a left turn onto Eight Mile Road in Cherry Grove.  Corporal McMillan suffered severe head injuries.
DEATH
Corporal McMillan remained in a coma for fifteen days before succumbing at 4:53 p.m. on October 23, 2020.
Corporal McMillan is survived by his parents, Kevin William McMillan and Rebecca Marie (John) Schweizer, and sister, Golf Manor Police Officer Erin Lea (Jon Hilgeford) McMillan.
Ohio Governor Michael DeWine ordered all American and Ohio flags flown at half-staff until the date of his internment.
FUNERAL
A public visitation was held on Friday, October 30, 2020 at Spring Grove Funeral Homes.  A private funeral service was held the next day on Saturday, October 31, 2020.  Hundreds of police vehicles escorted his remains to his burial at Arlington Memorial Gardens Cemetery at 2145 Compton Road.
Memorials may be made to the Police Unity Tour, National Law Enforcement Officer Memorial Fund, or The Shield.
If you know of any information, archives, artifacts, or images regarding this officer or incident, please contact the Greater Cincinnati Police Museum at Memorial@Police-Museum.org.
© This narrative was created on October 23, 2020 by Cincinnati Police Lieutenant Stephen R. Kramer (Retired), Greater Cincinnati Police Historical Society President.  All rights are reserved to him and the Greater Cincinnati Police Museum.