Police Chief James Kephart Elder | Mason Police Department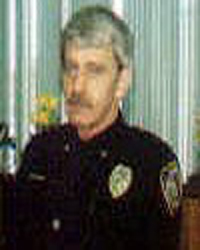 Age:     54
Served: 17 years
1965-August 29, 1982
OFFICER
James was born December 23, 1928 in Lockhaven, Pennsylvania to Clarence Russell and Edna M. (Kephart) Elder.
He joined the Mason Police department in 1965.  As a Patrolman, he was involved in a couple notable cases in Mason.  By 1977 he had been promoted to Sergeant.  During December 1978, Sergeant Elder was the acting Police Chief.  On January 23, 1978 Mason City Council appointed him as Police Chief.
Almost 4¾ years later, on the night of August 28, 1982, Mason patrol officers were called to an incident where two females were arrested, but they were so intoxicated that the jail could not accept them.  They contacted Chief Elder at home and Chief Elder contacted Mason's Mayor who owned a hotel in Mason.  The officers were told to take the women to the hotel, but the women continued to cause disturbances and the hotel manager recalled the police multiple times.  Notified of this, Chief Elder responded to the hotel somehow resolved the problem.
INCIDENT
Headed home, Chief Elder was driving south on Mason-Montgomery Road about 12:45 a.m. on the morning of August 29, 1982.  Near Stitt Road, his unmarked police cruiser went off the side of the road, struck a fire hydrant, flipped over, and slid into and sheared off a utility pole in front of Mason High School.  Chief Elder was critically injured in the crash and the Mason Volunteer Fire Company Life Squad rushed him to Bethesda North Hospital.
DEATH
Chief Elder died at the hospital at 4:34 a.m.
He was survived by his sons, Jeffrey Elder (21) and Terry Elder (18); mother, Edna Elder; and siblings, Doris Hamilton, Mary Virginia Kitner, and Russell Elder.  Services were held at the Mason First Baptist Church.  He was buried in Rose Hill Cemetery in Mason on September 1, 1982.
If you know of any information, artifacts, archives, or images regarding this officer or incident, please contact the Greater Cincinnati Police Museum at Memorial@Police-Museum.org.
©  This narrative was revised on August 29, 2016 by Cincinnati Police Lieutenant Stephen R. Kramer (Retired), Greater Cincinnati Police Historical Society President, with research assistance from Cincinnati Homicide Detective Edward W. Zieverink (Retired), Greater Cincinnati Police Museum Historian, and Chief Elder's son, Jeffrey Elder.  All rights are reserved to them and the Greater Cincinnati Police Historical Society.