Patrolman Luther D. Brooks | Cincinnati Police Department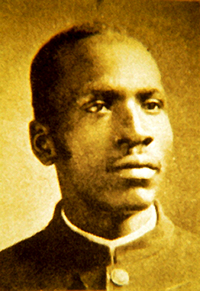 Age:     33
Served: 8 years
October 16, 1893 to November 23, 1901
OFFICER
Luther was born on March 27, 1868 in Brown County, Ohio.  His father was originally from Virginia and, therefore, likely a slave prior to the Emancipation Proclamation.
Luther joined the Cincinnati Police Department on September 26, 1893.
By 1898, he was married and his wife, Mattie, gave birth to a daughter; after which they moved to a nicer home at Mt. Hope Road and Eighth Street.
INCIDENT
On November 18, 1901, at about 8:00 p.m., First District Patrolmen Preston, Averdick, and Brooks were looking in a cave in the Millcreek bottoms north of Eighth Street for tramps suspected of freight car robberies.
Patrolman Brooks was forced to practically crawl on his hands and knees.  His holster became unbuttoned and his revolver fell, hammer-first, onto the cave floor discharging a bullet into his body, through his liver and right lung and into the muscles in his back.
The other two patrolmen summoned Patrol 9 to take Patrolman Brooks to City Hospital.
To assure no foul play was involved, Police Chief Philip Deitsch thoroughly investigated the incident.  On November 19, 1901, he reported his conclusion that the incident was an accidental discharge.
DEATH
By November 22, 1901, hospital officials moved Patrolman Brooks to a private room.  His pulse was 105 and temperature 90º.  There was no hope for his survival.  He died the next morning, November 23, 1901.
Patrolman Brooks left a wife, Mattie Brooks; and daughter, Genevieve Brooks (2).  His funeral services were held at the residence of L. Anderson at 739 Barr Street.  He was then buried at Union Baptist Cemetery.  Union Baptist Church is currently unable to locate the exact location of his burial, but he is known to be buried in the Corbin family plot.  Mattie died sixty years later during 1961.
NOTE:
Policemen were not permitted to carry revolvers in most agencies until the late 1880s.  Naturally, a number of these were dropped and physics dictated that they fall toward the heavier end.  Sometimes, they dropped directly on the hammer with the barrel pointed up.  This circumstance is the cause of four officers' deaths.  In the first decade of the 20th Century, the hammer block safety was invented, and no more officers died from accidentally dropped revolvers.
If you know of any information, artifacts, archives, or images regarding this officer or incident, please contact the Greater Cincinnati Police Museum at Memorial@Police-Museum.org.
© This narrative was revised September 8, 2012, by Cincinnati Police Lieutenant Stephen R. Kramer (Retired), Greater Cincinnati Police Historical Society President, with significant research conducted by Cincinnati Homicide Detective Edward Zieverink, Greater Cincinnati Police Museum Historian.  All rights are reserved to them and the Greater Cincinnati Police Historical Society.