Patrolman John A. Franken| Cincinnati Police Department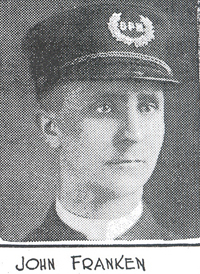 Age:     48
Served: 9½ years
February 18, 1908 to July 7, 1927
INCIDENT
On July 4, 1927, John Rucker, while high on drugs, armed himself with a shotgun and an automatic pistol and was terrorizing the citizens on Kenyon Avenue.  He shot two men and frightened a woman to the point of heart failure and death.
Patrolmen Franken, of 1125 Olivia Lane, and Sherman Yarion, both assigned to District Four, responded to 729 Kenyon Avenue at 7:40 p.m. and tried to quiet him.  Rucker shot both officers.
Patrolman Franken was hit in the abdomen with shots from the pistol and in the hands with shots from the shotgun.  The officers were rushed to the Saint Mary's Hospital and Rucker was arrested.
DEATH
Patrolman Franken died three days later on July 7, 1927, at 7:45 a.m., from general peritonitis resulting from the gunshot wounds.
He was survived by his father, F. Theodore Franken, and buried July 11, 1927, in Saint Joseph (Old) Cemetery, Price Hill.
JUSTICE
Rucker was convicted of Murder and, almost 1½ years later, electrocuted on November 30, 1928.
If you know of any information, artifacts, archives, or images regarding this officer or incident, please contact the Greater Cincinnati Police Museum at Memorial@Police-Museum.org.
© This narrative was revised on May 15, 2014 by Cincinnati Police Lieutenant Stephen R. Kramer (Retired), Greater Cincinnati Police Museum Executive Director.  All rights are reserved to him and the Greater Cincinnati Police Museum.