Patrolman Emery Conald Farmer | Fairfield Township Police Department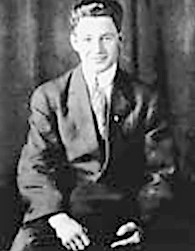 Age:        26
Served:  8 months
March 1922 to November 8, 1922
OFFICER
Emery was born on October 28, 1896 to Dillard Grant and Mollie (Short) Farmer of Sturgeon, Lee County, Kentucky.  By 1910 he was working as a pattern maker and living at 140 Pleasant Avenue in Hamilton.
On December 24, 1915 Emery married Lena M. Jones.  On June 5, 1917, he registered for the World War I draft and was living at 2287 Pleasant, still working as a pattern maker.  By 1919 he was working as a machinist and living at 937 Pleasant Avenue.
About March 1922, Emery joined the Fairfield Township Police Department as a Motor Constable.  He and his family were living at 919 Cleveland Avenue.  Within months, Constable Farmer was regarded as the most efficient motor cop patrolling Dixie Highway.
INCIDENT
Before 2 a.m. on Wednesday, November 8, 1922, two passersby found Constable Farmer, with a fractured scull, lying more than 28 feet from his wrecked motorcycle off the side of Dixie Highway along the car tracks of the Millcreek Valley car line.  They carried him to the home of Earl Bittinger on Dixie Highway.  From there, he was taken to Mercy Hospital.
DEATH
Constable Farmer died at 3 a.m. without regaining consciousness.
Constable Farmer was survived by his wife, Lena M. (Jones) Farmer, and children, Howard Farmer (4), Erma Farmer (2), and Eileen Farmer.  His funeral services were held on Friday, November 10, 1922, at 2 p.m. at his parents' home on the Sevenmile Pike near Williamsdale.  He is buried in Greenwood Cemetery, Hamilton, Ohio.
INVESTIGATION
Butler County Coroner Edward Cook, Hamilton and Butler County detectives, and Fairfield Township Squire, Dr. William S. Reed, embarked on a lengthy and ultimately fruitless investigation; almost immediately intimating that they believed the death to be a result of being forced off the road.   Detectives Mueller and Dulle believed the motorcycle impacted something and that Constable Farmer's body was hurled 28 feet from the impact, though there were no indications of an impact with another vehicle.   The speedometer was locked at 58 miles per hour.  Additionally, when Constable Farmer was found, his revolver was missing from his holster.  He was well known for nabbing bootleggers and speeders in his short career.
No one was ever identified, but it is believed that he was probably run off the road by bootleggers or a speeder.
Nearly 80 years later, during 2000, Motor Constable Farmer was recognized at the National Law Enforcement Memorial and his name is etched on tablet 37-E:21.  On Peace Officers Memorial Day, May 15, 2000, he was honored with ceremonies at Greenwood Cemetery.
If you know of have any information, artifacts, archives or images regarding this officer or incident, please contact the Greater Cincinnati Police Museum at Memorial@Police-Museum.com.
© This narrative was revised on June 24, 2017 by Cincinnati Police Lieutenant Stephen R. Kramer (Retired), Greater Cincinnati Police Museum Director.  All rights are reserved to him and the Greater Cincinnati Police Historical Society.