Patrolman Edward F. Knaul | Cincinnati Police Department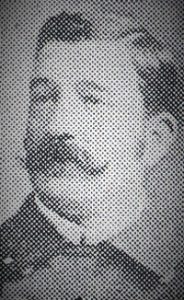 Age:     49
Served: 16½ years
July 12, 1898 to December 18, 1914
BACKGROUND
On March 23, 1914, 30-year-old Frank G. Hohl entered the Union Bank in Altoona, Pennsylvania and held it up at gunpoint.  Before leaving, he shot the cashier in the leg.  On the way out, he shot a depositor who unwittingly was walking into the bank.  He continued firing a fusillade outside the bank, terrorizing a central business district crowd, before fleeing in a stolen taxicab.
Within days, police caught up to him 170 miles away in Salem, Ohio.  On the way back to Altoona he made several attempts to escape; including once throwing scalding coffee into an escort officer's face.
By April 12, 1914, Hohl had confessed, was tried and convicted, and was awaiting sentencing in the Holidaysburg jail just outside Altoona.  About 1 a.m. a jail employee found a rope, made from a mattress, dangling from the roof.  Going inside, he found Hohl's cell empty.
He reappeared eight months and 400 miles away in Cincinnati.  Shortly after 10 a.m. on December 17, 1914, Hohl entered the West End Branch of the Provident Savings Bank and Trust Company on the northeast corner of West Eight Street and Freeman Avenue.  He robbed the bank at gunpoint, fired two shots at Cashier Edward Hughes, took $8000 (over $200,000 in 2019 dollars), and drove away in a stolen automobile.  Hughes retrieved a handgun and fired at Hohl as he fled but missed.
While police were looking for the bandit, little more than an hour later, Hohl entered the Liberty Banking and Savings Company Bank ten blocks north at Liberty Street and Freeman Avenue.  He shot twice at Cashier George Winters and stole $5100 ($125,000 in 2019).
Later, in the afternoon, he then intended to rob the Mohawk Bank at Fifteenth Street and Central Avenue, but the manager there, alerted to the previous robberies, had locked the door and did not admit him into the bank.
INCIDENT
Two hours later, Harry Buckshorn informed Lieutenant Imwalle and Patrolman Knaul that a man matching Hohl's description was staying at his mother's rooming house at 918 West Ninth Street (within yards of the first Cincinnati bank he robbed).  They and another officer responded to the room where he was staying, knocked on the door, and announced their presence.  Hohl burst out of the room firing a high-powered pistol.  Patrolman Knaul was hit seven times.  Hohl drove off in a stolen vehicle with officers in pursuit.  He lost control and drove into a utility pole and fled the car firing at responding officers.  Two of the officers, including Patrolman Frank Chase, returned fire and shot him four times.
Hohl and Patrolman Knaul were both taken to Cincinnati Hospital.  Hohl died shortly after arrival.
DEATH
Patrolman Knaul died the next day on December 18, 1914 at 10:30 a.m.  Cincinnati Police Chief William Copelan ordered the badge of mourning to be worn by officers for ten days from December 19 through December 28.
Patrolman Knaul was survived by his wife of 27 years, Emma Knaul (46); children, Hazel Knaul (27) and Earl Knaul (25); and grandson, Carl Knaul (1).
The funeral was held at Patrolman Knaul's residence at Lantana and Cedar Avenues in College Hill at 1 p.m. on December 22, 1914.  Services were held at the Spring Grove Cemetery chapel.  Pallbearers included Lieutenant James Slattery and Patrolmen Peter Klein, Frank Chase, and Theodore Huber.  He was buried that afternoon at 2 p.m. in Section 100, Lot 37, Space 7.
His wife Emma joined him more than 25 years later in January 1940.
If you know of any information, artifacts, archives, or images regarding this officer or incident, please contact the Greater Cincinnati Police Museum at Memorial@Police-Museum.org.
© This narrative was researched and revised on February 27, 2012 by Cincinnati Police Lieutenant Stephen R. Kramer (Retired), Greater Cincinnati Police Museum Director.  All rights are reserved to him and the Greater Cincinnati Police Museum.