Motorcycle Patrolman Robert D. Leigh | Cincinnati Police Division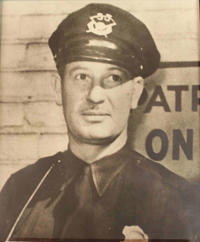 Badge:     55
Age:        37
Served:    9¼ years
October 16, 1930 to April 27, 1940
OFFICER
A native of Tampa, Florida, Robert joined the Tampa Police Department as a Patrolman.
He moved his growing family to Cincinnati and joined the Cincinnati Police Division on October 16, 1930.  He first worked as a patrolman in District 6.  On August 16, 1934, he transferred to the Safety Patrol.  Patrolman Leigh was described by Major Charles Wolsefer, superintendent of the Highway Safety Bureau, as "one of the finest men of our bureau." Others described him as one of the most widely liked members of the Police Department.
Patrolman Leigh raised his family in Laurel Homes, a situation which was not pleasant but all he could afford at the time.  His children attended school at Washburn School which was described by one as "hell."  During 1940, his family was very much looking forward to moving to Fairfax.
INCIDENT
On April 27, 1940, Motorcycle Patrolman Leigh was finishing his shift and heading south on Reading Road to report to City Hall to end his tour for the day.  Dr. Dale Ettor was backing his Pontiac coupe out of his driveway at 2719 Reading Road into Patrolman Leigh's path.  The resulting crash was witnessed by Herbert Wiemeyer, 26 Glenwood Avenue; Ed Neuman, operator of a Standard Oil Station at Oak and Reading Roads; and Jacob Marx, 15 Mason Street.  They immediately ran to Patrolman Leigh and rushed him across the street to Bethesda Hospital.  He was pronounced dead upon arrival by Dr. H. Mintz.
Patrolman Leigh left a wife, Lucille Leigh, and five children, Robert Leigh, Jr. (16), Marjorie Leigh (14), Gilbert Leigh (12), Ronald Leigh (10), and Patricia Leigh (7).  On April 30, 1940, Patrolman Leigh was buried in Laurel Cemetery in Madisonville.  Pallbearers included fellow Motorcycle Patrolmen Lawrence Lee, Fred Mitchell, August Barber, John Davis, John Reid, and Paul Steuer.
INVESTIGATION
Dr. Ettor, in a state of shock at what had happened, was taken to his residence at General Hospital.  When interviewed by Patrolmen James Decker and Thomas Murray, both of the Accident Investigation Division of the Highway Safety Bureau, the doctor stated that he had been watching for two automobiles – both travelling north on Reading Road – to pass his driveway and that after they did so, he then exited his driveway and entered on to the street.  Dr. Ettor further stated that he did not see Patrolman Leigh until Leigh's motorcycle collided with the Pontiac that he was driving.  He was cited for failing to yield the right of way at a private drive.
On April 29, 1940, Dr. Ettor was found guilty in Traffic Court, fined $10.00 and costs, and given a 6-month driving suspension.  We read in The Cincinnati Enquirer on May 1, 1940 that Presiding Judge A. L. Luebbers visited the scene of the crash before making his decision. In Judge Luebbers' opinion, Dr. Ettor should have waited until the traffic light at Reading Road and Oak Streets – just north of his driveway – turned red, thereby holding back traffic, before he emerged from the driveway.  Dr. Ettor admitted that he did not know the color of the light.
EPILOGUE
Seven decades later, Gilbert Leigh wrote, "The death of Dad, and the war, really split up the family and we never really got back together."
The police pension fund included for the widow $50 a month and for each of the children $7 until they reached the age of being self-supporting.  Mrs. Leigh had to take a job to make ends meet.  She worked at Corcoran Brown making head lamps for Jeeps.  She remarried, to James Mosher, in the late 1940s.  Both are buried in Florida.
Robert Leigh Jr. entered the United States Navy, retired after 22 years of service, and became Chief of Police in Milford, where he is buried.
Marjorie Leigh worked for the Internal Revenue Service until she retired.  She is buried with Mrs. Leigh in Florida.
Gilbert Leigh joined the United States Merchant Marine at 15½, then the United States Navy at 17.  He was honorably discharged, worked for the Cincinnati Transit, and then went back into the Navy for the Korean Conflict.  He then went to work for Remington Rand and retired from Sperry.  He resides in Glendale, Arizona.
Roland (Smitty) Leigh joined the Merchant Marines after driving a truck for years.  He is also buried with Mrs. Leigh in Florida.
Patricia Leigh married and had two children.  She resides in Milford, Ohio.
If you know of any information, artifacts, archives, or images regarding this officer or incident, please contact the Greater Cincinnati Police Museum at Memorial@Police-Museum.org.
© This narrative was revised on April 24, 2019 by Cincinnati Police Lieutenant Stephen R. Kramer (Retired), Greater Cincinnati Police Historical Society Vice President, with some research material provided by Cincinnati Police Dispatcher Karen R. Arbogast (Retired), Greater Cincinnati Police Museum Volunteer, and Cincinnati Homicide Detective Edward W. Zieverink III (Retired), Greater Cincinnati Police Museum Historian. All rights are reserved to them and the Greater Cincinnati Police Museum.