Motorcycle Patrolman David Barnett Rogers | Covington Police Department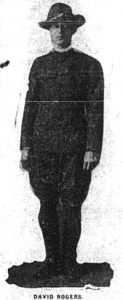 Age: 26
OFFICER
David was born February 25, 1897 in Carroll County, Kentucky to Dinsley and Cora (Harlowe) Rogers (or Roggers), also of Kentucky.
While living at 314 Greenup Street and working as a chauffeur and a member of the Ohio National Guard, David was activated into the United States Army during World War I on August 18, 1917. He served in the 134th Machine Gun Battalion of the 37th Infantry Division (also known as the Buckeye Division) and fought in the Meuse-Argonne (the largest offensive in U.S. history) and at Ypres-Lys offensives. Sergeant Rogers was honorably discharged after the war ended.
After coming home, he joined the Covington Police Department and soon assumed motorcycle duties.
INCIDENT
On May 13, 1923, he pursued a speeding vehicle on Madison Pike near the south end of the Buena Vista tunnel near 26th Street. He crossed the centerline to pass a bus, then a car, and saw a vehicle coming head on. He applied the brakes hard, lost control of the motorcycle and fell to the ground. His head struck a curb and he was killed instantly. Then, another car ran over the officer's body.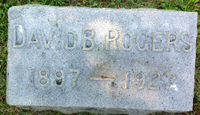 FUNERAL
Patrolman Rogers was survived by his wife, Sylvia (Mullins) Rogers, and parents, Tinsley and Cora Rogers. The funeral was held at his residence at 226 E. 2nd Street. The cortege was escorted by a platoon of police. The pallbearers were Lieutenant Al Schild and Patrolmen Frederick Gulick, Thomas Harris, George Moss, George Eilers, George Clark, and John Clark. He was buried in Section 17, Lot 233, Grave 1, Highland Cemetery, Fort Mitchell.
INVESTIGATION
Covington Lieutenant Pickett investigated the crash and found that the car Patrolman Rogers was pursuing swerved when Patrolman Rogers came along side and forced the crash. The offending car bore Ohio license plates and was never found. Coroner Stephens ruled that the officer was already deceased at that time he was run over by the other vehicle.
If you know of any information, artifacts, archives, or images regarding this officer or incident, please contact the Greater Cincinnati Police Museum at Memorial@Police-Museum.org.
© This narrative was revised May 8, 2019 by Cincinnati Police Lieutenant Stephen R. Kramer (Retired), Greater Cincinnati Police Historical Society Vice President. All rights are reserved to him and the Greater Cincinnati Police Museum.