Night Desk Sergeant Charles Jacob Stegemann | Hamilton Police Department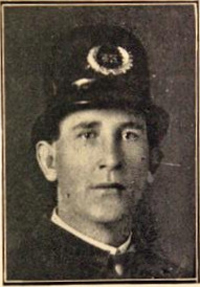 Age:        38
Served:    10¼ years
March 15, 1910 to June 25, 1920
OFFICER
Charles was born on February 2, 1882 in Butler County, Ohio to Theodore Heinrich and Anna Maria (Mick) Stegemann of Ohio.  He had one brother and seven sisters.
In his early life, he worked as a cigar maker.  At 20, during 1902, he was a planer hand.  During 1906, he worked as a safe maker for the McNeal and Urban Safe Company.  In 1908 he was a machinist.
Charles joined the Hamilton Police Department on March 15, 1910 as a Patrolman.  On December 15, 1919, he took a competitive examination for Desk Sergeant and was subsequently promoted.  By mid-1920, he was living at 12 South D Street with his wife and daughter.  He was also a member of the Loyal Order of Moose, Fraternal Order of Eagles, and Police Aid Society.  He was considered one of the best-hearted men that ever lived.
Life was good for the Stegemanns.  On June 25, 1920, Mrs. Stegemann and their daughter, Dorothy, traveled to her cousin's home in Cincinnati, intent on spending a fun-filled day at Chester Park on Spring Grove Avenue.
MURDERER
James Bolin was born January 15, 1888 in Kentucky to Eli and Katherine (Hornsby) Bolin.  During 1900, he was still living in Crockettsville, Kentucky.  During 1910, he was living and working on a farm in Bowlington, Kentucky.  By mid-June 1920 the whole family, including his parents and siblings, had moved to Hamilton on North B Street near Two Mile Creek.  He was working as a laborer at the Champion C Paper Company.
There is no indication that anyone in the Bolin family was ever a problem for any law enforcement agency in Kentucky or Ohio, except Leander Bolin who was arrested in Hamilton for being a "slacker" – one who avoids military service.
INCIDENT
On June 25, 1920, a domestic disturbance was anonymously called in at the Bolin home involving an attack on a woman.  According to the report, an aged woman was being dragged about by her hair.  Captain Joseph Cahill and other officers responded, but they could find no indication of a problem outside the home and were refused admittance.
About 7:20 a.m. on the morning of June 25, 1920, Hamilton Police determined to investigate further.  Sergeant Stegemann, Chief of Detectives (Captain) Herman Dulle, and Detective Edward Riley responded back.  Eli Bolin, the homeowner, met them on the sidewalk and Detective Riley interviewed him while Captain Dulle and Sergeant Stegemann entered the home.  Captain Dulle looked around on the first floor and Sergeant Stegemann went upstairs.
When Sergeant Stegemann stepped into an upstairs room he was met by James Bolin pointing a pump shotgun at him.  Sergeant Stegemann yelled to Captain Dulle, "Cap, come here!" and pulled his sidearm while backing up.  As Chief Dulle rushed up the stairs, Sergeant Stegemann was backing down the steps and Bolin pulled the trigger shooting Sergeant Stegemann in the center of his chest.  Sergeant Stegemann fired a round from his revolver.  He fell backward into Captain Dulle, who eased him to the floor.
Bolin advanced on Captain Dulle who grabbed the barrel of the shotgun.  He pulled his revolver and shot James Bolin in his left side and then saw James's brother, Leander "Lee" Bolin, aiming a revolver at him.  Chief Dulle pulled James Bolin close to himself as Lee Bolin fired two shots and returned fire at Lee Bolin.  Then, the Bolins' sister, Mrs. Sarah Cornett, crossed between them and retrieved James Bolin's shotgun.  Severely outgunned with two or more adversaries, Chief Dulle ran from the home, told Detective Riley to leave as well, and called Headquarters for assistance.  He also called Dr. A. L. Smedley for medical assistance.
Chief of Police Stricker and several officers responded with rifles and shotguns borrowed from the C. A. Clark and Sons Company and Spoerl Hardware.  Eli, Lee, and William Bolin and Mrs. Sarah Cornett surrendered and were taken into custody.
Dr. Smedley entered the home and determined that Sergeant Stegemann was dying and there was nothing that could be done for him.  The doctor and Eli Bolin carried Sergeant Stegemann to an ambulance which took him to Mercy Hospital.  Chief Stricker went back into the home with Dr. Smedley and carried James Bolin to a patrol wagon that took him to Mercy Hospital and the rest of the family to jail.
DEATH
Sergeant Stegemann, on the way to the hospital, asked for a drink of water and fell into an unconscious state.  He did not regain consciousness and died at 8:00 a.m. on June 25, 1920 in the hospital."
Sergeant Stegemann left a wife, Mary K. "Mayme" (Grimmer) Stegemann; daughter, Dorothy Stegemann (13); siblings, Anthony Stegemann, Mrs. Bach of Toledo, Mrs. W. Gray of Philadelphia, Mrs. J. Schlosser of Alameda, California, Mrs. Fox of Los Angeles, Dorothea Stegemann of Alameda, Agnes Stegemann of Chicago, and Mrs. John Thurston of Newport.   He was buried on June 29, 1920 in Greenwood Cemetery.
Mrs. Stegemann was granted a pension of $25.00 per month and Dorothy $7.50 a month until she turned 16.  Mrs. Stegemann lived another 49 years, dying at age 90 in 1969.  Dorothy married Paul Grathwohl in 1928 and died at 94 in 2001.
JUSTICE
By 2:20 p.m. on June 25, 1920, physicians had all but given up hope for Bolin's survival.  He had been shot four times; once in the side, one in the arm, and twice in the back.  The shots to his back went through his lungs.  The shot to his side traversed his abdomen.  Though conscious, the only statement he made was an admission that he shot Sergeant Stegemann.  He refused to tell police what was so important at the Bolin home that they were willing to kill police officers for it.  Bolin died at 5:50 p.m. that night.  He was buried in Greenwood Cemetery on June 28, 1920.
Lee Bolin was charged with Shooting with Intent to Kill Chief Dulle.
It was never determined who the screaming woman was, who was assaulting her, or what was so important in the home that the family took up arms to protect it.  Even after James Bolin's death, no family member divulged the secret..  Lee Bolin had $3500 ($46,500 in 2019 dollars) in his pocket that he could not explain.  Police looked for a still but found no trace of one.
On December 30, 1922, Butler County Prosecutor John D. Andrews, as he was retiring, nulled 92 indictments including that of Lee Bolin's.  There was no explanation given, but he might have been in seriously poor health by 1922.  He died January 26, 1924 in Covington Kentucky of Mitral Insufficiency.
If you know of information, artifacts, archives, or images regarding this officer or incident, please contact the Greater Cincinnati Police Museum at Memorial@Police-Memorial.com.
© This narrative was further researched and revised on June 17, 2019 by Cincinnati Police Lieutenant Stephen R. Kramer (Retired) and included research work product from Joyce Meyer, Price Hill Historical Society, and Cincinnati Homicide Detective Edward W. Zieverink III (Retired), Greater Cincinnati Police Museum Historian.