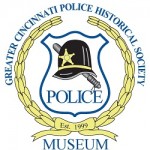 The Greater Cincinnati Police Museum
"Preserving the History of Law Enforcement in the Greater Cincinnati Area"
---
Lieutenant Thomas E. Fox, Sr.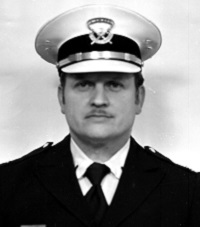 Tom was born January 3, 1937 in Cincinnati, the second child born to Everett Randolph "Ronnie" (of Pennsylvania) and Alice Fox.  He attended Elder High School where he participated in Dramatic Club, Intramurals, C.S.M.C., baseball and football and graduated in June 1955.  Two months later, he married Mary Jetter.  He also attended the University of Cincinnati until June 1957 and majored in Accounting and Retail Salesmanship.
Also immediately after high school, Tom went to Kroger's and worked as a meat cutter.
Tom joined the Cincinnati Police Division on October 12, 1959 as a Police Recruit.  He was promoted to Patrolman on February 3, 1960, issued Badge 128, and assigned to District 1 (310 Lincoln Park Drive).  During January 1961, he was rotated to District 3 (3201 Warsaw Avenue) and in 1962 transferred to District 2 (314 Broadway).  On February 27, 1966, he was among the first group of officers to be promoted to the new rank of Police Specialist, issued Badge PS-5, and detailed to the Robbery Squad of the Crime Bureau (City Hall).  Specialist Fox served also in Districts 2 and 1 and the Tactical Unit.
On November 2, 1968 he was promoted to Police Sergeant, issued Badge S-90, and reassigned to District 1.  On April 4, 1971, Sergeant Fox transferred to the Burglary Squad in Criminal Investigation Section (222 East Central Parkway).  Three months later, it was determined that a second sergeant was needed in Vice Control Section for round-the-clock supervision and Sergeant Fox was transferred there.  In 1972, he temporarily commanded the Squad and managed a $50,000 heroin bust ($300,000 in today's dollars).  On December 19, 1975 Sergeant Fox transferred back to District 3.  He was promoted to Lieutenant on May 30, 1976, issued Badge L-3, and reassigned to District 1 for a fourth tour.  Lieutenant Fox also commanded Communication Section and Central Records Management Section.  On August 18, 1985, he returned to Criminal Investigation Section and took command of the newly formed Criminalistics Squad.  Lieutenant Fox retired on December 17, 1988, with 29 years of service, high praises from his section and bureau commanders, and twenty letters of appreciation and/or commendation (including two from police chiefs and one from the City Manager).
Lieutenant Fox died peacefully and among family while under hospice care at his son's home on July 7, 2020.  He was 83½.
He was predeceased in 2010 by his wife of 55 years, Mary A. (Jetter) Fox.  Lieutenant Fox is survived by his children, Thomas E. Fox, Jr., and Deborah A. (Vincent) Wallace; grandchildren, Stephanie, Jillian, Lindsey, Kelley, James, Nicole, Abby, Autumn, and Olivia; great-grandchildren, Sydney, Peyton, Avalin, Liam, Audrey, Bowen, Ryder, Paisley, and Ryleigh; and siblings, Richard Fox, Daniel Fox, and Nancy Bareswilt.
A Memorial Mass will be celebrated at the convenience of the family.  A FOP graveside service will be held at 11:30 a.m. on July 16, 2020 at St. Joseph (Old) Cemetery Mausoleum on Eight Street across from Seton Avenue in Price Hill.
Memorials may be made to Hospice of Cincinnati, Inc., P.O. Box 633597, Cincinnati, OH  45263-3597.
© 2020 – All rights are reserved to LT Stephen R. Kramer RET and the Greater Cincinnati Police Museum