Law Enforcement Officers Recognized as Western Hills High School Athletes
By LT Stephen R. Kramer, Historian, Greater Cincinnati Police Historical Society
The Association of West High Alumni Athletes (ASHAA) selected five alumni to be inducted into the Western Hills High School Athletic Hall of Honor at their 18th Annual Hall of Honor Dinner on Wednesday, March 29, 2023 at The Meadows, in Addyston. Two of these, were not only West High athletic standouts, but made their marks in local law enforcement.
Police Officer Thaddeus LaDwayne Steele '83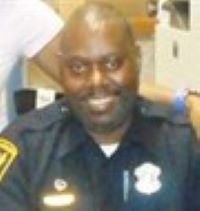 Thad was born to Emmanuel and Eula Mae (Gilbert) Steele. At West High, he played baseball, basketball, and football.  During his senior year, he was named to the 2nd string of the All Public High School League Team as a running back.
Thad was drafted in the seventh round of the 1983 Major League Baseball Amateur Draft by the Pittsburgh Pirates and played for the Bradenton Marauders of the Gulf Coast League.
In November 1985, Thad joined the United States Army and was assigned as a Material Specialist at Fort Knox. Corporal Steele was honorably discharged in 1988 with a Good Conduct Medal.
Thad joined the Cincinnati Police Department as a Police Recruit on June 7, 1992.  He was promoted to Police Officer, issued Badge 245, and assigned to District 2 (Erie Avenue). A year later, he was rotated to District 1 (Ezzard Charles Drive). After 8 years, he transferred to District 4 (Reading Road).  For the last few years, he gained a reputation as the 3rd Relief Desk Man and for his ever-present smile.
On November 18, 2016, with 27 years of service to his country and community, Officer Steel suffered a serious medical event. With the hospital corridor full of family and friends, Officer Steele died at 9:05 a.m. on November 18, 2016.  He was 52 years of age.
Captain Richard Alan Neville – Western Hills '87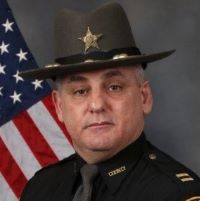 Rick was born to Cincinnati Police Sergeant Gary U. and Judith A. Neville. At West High, he played football and baseball. In 1986 he was the winning pitcher in almost every playoff game and led the Mustangs to a state championship. He was chosen as one of the Cincinnati Enquirer's "First Team." He then went 4-0 with the Midland Redskins in the Connie Mack World Series in New Mexico. After graduating, Rick received a scholarship with the St. Thomas University in Florida.
By 1989, his father and two uncles had attained command ranks in the Cincinnati Police Department.  Four of his siblings had also joined the Department. During October 1989, Rick joined the Hamilton County Sheriff's Office as a Corrections Officer.
Deputy Neville was promoted to Patrol Officer in 1996, Detective in 1999, Corporal in 2001, Sergeant in 2003, and Lieutenant in 2010. He then completed the 15-semester-hour Administrative Officers Course at the Southern Police Institute at the University of Louisville, assessed by many to be the finest and most rigorous secondary police education course in the nation. He received the Director's Award for Academic Excellence.
In 2013, Lieutenant Neville was promoted to Captain, following his father and three of his siblings.
In addition to his normal duties, from 2003 to 2020, he worked at and later coordinated security operations as Great American Ball Park and Paul Brown Stadium, collaborating with the Cincinnati Police Department, Cincinnati Fire Department, Federal Bureau of Investigation, Joint Terrorism Task Force, and Department of Homeland Security.
Captain Neville retired during January 2021 with 31 years of service to the residents of Hamilton County.
Captain Neville is currently the Director of Public Safety and Security at Great American Ball Park. He resides in Miami Township with his wife of more than 32 years, Donna Neville, and they have two daughters, Jeanna and Kayla, and a granddaughter, Layla Grace.
For more information: