Lieutenant Randy L. Webb L-679 (1957-2023)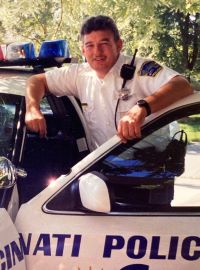 Randy was born June 12, 1957 to future Hamilton County Sheriff's Deputy Franklin Delano and Janice (Shelton) Webb. He attended Harrison High School, participated in football and track, and graduated in 1975.
The next month, Randy joined the United States Army on July 20th and served in the Military Police at Fort Knox for fourteen months.  He was transferred to Miesau Army Depot in Germany and served there eighteen months before returning home. Corporal Webb was honorably discharged on July 21, 1978 with a Good Conduct Medal.
The next month, he took a security position at Cincinnati Milacron and worked there until October 1984.
Randy joined the Hamilton County Sheriff's Office as a Corrections Officer on October 18, 1984. After promotion to Corrections Officer 2 and a few commendations, he resigned effective September 23, 1988.
Deputy Webb joined the Cincinnati Police Division on October 2, 1988 as a Police Recruit. He was promoted to Police Officer on February 19, 1989, issued Badge 679, and assigned to District 1 (310 Ezzard Charles Drive). One year later, Officer Webb was rotated to District 2 (3295 Erie Avenue). A year later, he transferred to the Park Unit. On July 26, 1998, he was promoted to Sergeant, issue Badge S-679, and assigned to District 5 (1012 Ludlow Avenue). On March 3, 2002, Sergeant Webb was promoted to Lieutenant, issued Badge L-679, and assigned to Patrol Administration. He also served in District 2, Personnel Section, and District 4 (4150 Reading Road). On July 26, 2009, he was assigned as the District 4 Investigative Unit Commander. Lieutenant Webb retired on December 1, 2012 with 31 years of service to his country, county, and community and eighteen letters of appreciation and/or commendation, including one from the Cincinnati Police Chief, a Hamilton County Judge, a Cincinnati Mayor, and a northern Kentucky police chief.
Lieutenant Webb suffered a fatal heart attack on January 20, 2023 at the age of 65½.
He was predeceased by his brothers, Jerry R. Webb and Franklin H. Webb. Lieutenant Webb is survived by his wife of 30 years, former Cincinnati Assistant Prosecutor Melanie Jane Reising; daughter, Lydia Annelise Webb; mother, Janice (Shelton) Webb; and sisters, Taunya (Steven) Poe and Terri (Kari Sprinkles) Webb.
There are no current plans for a funeral service. We will update if another event is planned in the future.
© 2023 – All rights reserved to LT Stephen R. Kramer RET and the Greater Cincinnati Police Museum