Lieutenant Henry Kenneth Parris, Jr. L-43 (1926-2022)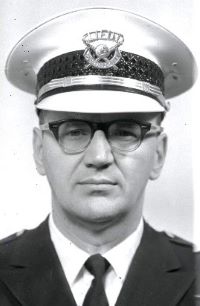 Henry was born May 20, 2926 in Ohio to Henry Kenneth and Mary (Woods) Parris, Sr.  He attended Central Vocational School, graduating in February 1944.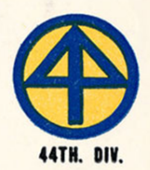 Seven months later, Henry joined the United States Army on September 4, 1944. His basic training was at Camp Fannin in Texas. He was assigned to the 3rd Battalion Headquarters Company, 71st Infantry, 44th Division under General A. Arnim  White and sent overseas where he served in France, Germany, and Austria. They began working toward the ouster of Germany from France on March 5, 1945; to Pirmasens, Germany on March 21st, and entered Austria May 2nd. They fought further east than any other unit and met the Russians at Linz May 8th, the day before hostilities ended. Private First Class Parris returned home with a Good Conduct Medal, American Theatre, European, African, and Middle Eastern ribbons, World War II Victory Medal, and Army Occupation Medal – Germany. He then joined the United States Army Reserve serving in the 478th Combat Engineers Battalion. He was honorably discharged June 26, 1953.
While serving in the Reserves, he also worked six months at Arthur Murray's Dance Studio, three months as a carpenter's helper for Vince Kruger in Bridgetown, two months as a shearer for the Randall Corporation and three months as an assembler for the Chevrolet Company in Norwood.
Henry joined the Cincinnati Police Division on June 1, 1950 as a Police Recruit. He was promoted to Patrolman on September 1, 1950, issued Badge 364, and assigned to District 7 (813 Beecher Street). On November 8, 1953, he transferred to District 2 (314 Broadway). Almost three years later, Patrolman Parris transferred to District 6 (3295 Erie Avenue). Having finished eighth in the Sergeant exam during March, he was promoted on June 2, 1957, issued Badge S-65, and transferred to District 4 (7017 Vine Street). During February 1959 he was rotated back to District 2. On August 27, 1961 he was promoted to Lieutenant, issued Badge L-43, and assigned to District 1 (310 Lincoln Park Drive). Lieutenant Parris also served in District 5 (1012 Ludlow Avenue), District 6, District 4, and Inspections Section. He retired to New Haven Road in Harrison, Ohio on July 1, 1978 with almost 36 years of service to his country and community.
Lieutenant Parris moved to Demming, New Mexico and served as a Jahova's Witness preacher.
Lieutenant Parris was diagnosed with brain cancer, and he died on December 15, 2022 at the 96½. At the time of his death, he was the oldest retired Cincinnati Police employee.
Lieutenant Parris is survived by his children, Toni Berry, Mark Parris, and Karen Ayres; grandchildren, Brandon Berry, Michelle Henson, Joshua Parris, Nicole Parris, Avalyn Parris, Brianna Parris, and Micah Dingler; and great-grandchildren, Madison Henson, Kiara Parris, and Haley Parris.
© 2023 – All rights are reserved to LT Stephen R. Kramer RET and the Greater Cincinnati Police Museum