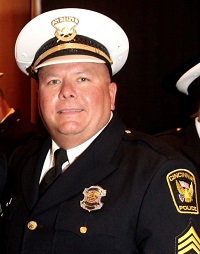 Hank was born May 8, 1967, in Ohio to William Bernard and Agnes Pauline (Jones) Ward. He attended Norwood High School, graduating in 1985.  He attended the University of Cincinnati from 1985 to 1988 majoring in Pre-Med and Biology and one semester at Edgecliff College for Mortuary Science.
While attending college, he worked various jobs, including line worker at General Motors in Norwood and for the Norfolk Southern Railway.
Hank joined the Cincinnati Police Division as a Police Recruit on October 8, 1989.  He was promoted to Police Officer on February 25, 1990, issued Badge 734, and assigned to District 2 (3295 Erie Avenue).  A year later Officer Ward was rotated to District 5 (1012 Ludlow Avenue).  During January 1994, he transferred to District 1 (310 Ezzard Charles Drive).  He was promoted to Sergeant on July 16, 1995, issued Badge S-58, and reassigned to District 2.  Two years later, Sergeant Ward transferred to the Park Unit (Mt. Airy Woods).  He transferred back to District 2 in 2013.  On June 19, 2015, his best friend and best man at his wedding, Police Officer Sonny Kim, was killed in the line of duty.
Also in 2015, he transferred back to District 1 and soon thereafter took charge of the District 1 Neighborhood Liaison Unit, where he received glowing reviews from the District Commander.  During 2020 he transferred to Planning Section, Crime Analysis and Problem-Solving Unit.  Sergeant Ward retired October 18, 2021, with 32 years of service and 25 letters of appreciation and/or commendation including eight from police chiefs.
After a few years with heart problems and less than four months after retiring, Sergeant Ward died on January 25, 2022 at the age of 54.
He is predeceased by his mother, Agnes (Jones) Ward.  Sergeant Ward is survived by his wife of almost 20 years, Connie Jo (Fischer) Ward; father, William Bernard Ward; children, Cincinnati Police Officer William Wyatt (Emily) Ward and Morgan Taylor Ward; grandson, William Carson Ward; and sisters, Patsy (Chuck) Johnson and Anita Ward.
Visitation will be held 10 a.m. to 2 p.m. on Tuesday, February 1, 2022, at the Thomas-Justin Memorial Home at 7500 Montgomery Road.  An FOP service will be held at 1:45 p.m.  A funeral service will be held from noon to 12:45 p.m.  He will be entombed at 3 p.m. at Rest Haven Memorial Gardens at 10209 Plainfield Road.  A gathering will be held at French Park from 4 to 7 p.m.
Memorials may be made to the Cincinnati Fraternal Order of Police, Lodge 69, 1900 Central Parkway, Cincinnati, OH  45214 or the Cincinnati Association for the Blind or Visually Impaired (CABVI), 2045 Gilbert Avenue, Cincinnati, OH  45202
© 2022 – All rights reserved to LT Stephen R. Kramer RET and the Greater Cincinnati Police Museum