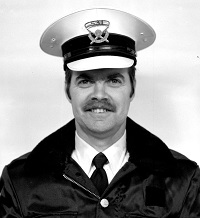 Bill was born May 13, 1942 to Walter L. and Jean (Hall) Edwards.  He attended Norwood High School graduating in 1960.
Bill joined the Cincinnati Police Division as a Police Recruit on November 19, 1967.  He was promoted to Patrolman February 25, 1968, issued Badge 531, and assigned to District 4 (7017 Vine Street).  Five years later he was transferred to District 1 (310 Lincoln Park Drive).  He returned to District 4 (at 4150 Reading Road) two years later.  Near the end of his career he served as the district warrant man and was known for covering over on radio runs and an infectious sense of humor.  His supervisors considered him a joy to work with every day.  Officer Edwards retired on April 4, 1998 with 30 years of service and 35 letters of appreciation and/or commendation, including four from police chiefs and one from a Hamilton County judge.
Officer Edwards died on January 25, 2022 at the age of 79.
Officer Edwards is survived by his wife of 54 years, Barbara J. (Richardson) Edwards; children, retired Police Officer Steven (Deidra DeLong) Edwards and Danielle (Tim Canfield) Edwards; grandchildren, Jacob Edwards, Samuel Edwards, Billy Gibson, and Rachel Canfield; and siblings, Richard Dixon and Linda Dixon.
Services will be held at the convenience of the family.
© 2022 – All rights reserved to LT Stephen R. Kramer RET and the Greater Cincinnati Police Museum