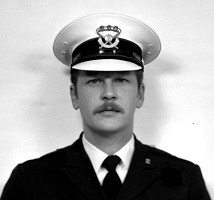 Joe was born March 14, 1947 in Ohio.  He attended Withrow High School where he was a Tower News representative and was involved with the Annual Report and Pep Club.  He graduated in 1966.
During the summer of 1965, Joe worked in valet parking at River Downs.  As a co-op student at Cincinnati Co-op School of Technology, he worked as a sales supervisor at Shillito's at 7th and Race Streets.  From June to August 1868, he started working at Mt. Washington Ice and Beer as a sales/stock manager.
On August 31, 1968 Joe married Charlene Frances Oberklaus.
He joined the Cincinnati Police Division as a Police Recruit in Recruit Class No. 51 on September 15, 1968.  On December 22, 1968, he was promoted to Patrolman, issued Badge 660, and assigned to District 6 (3295 Erie Avenue).  On June 18, 1972 he transferred to Traffic Section (314 Broadway).  He also served in District 4 (7017 Vine Street) and returned to District 6.  During March 1979, he and Officer Gordon Rogers patrolled Kellogg Avenue in Cincinnati Fire Department boats due to the great flood.  Officer Stiles resigned on October 5, 1979 with almost 11 years of service and 11 letters of appreciation and/or commendation.
Officer Stiles died January 2, 2022 at the age of 74.
Officer Stiles is survived by his wife of 53 years, Charlene Frances Stiles; children, Christy Lynn Stiles and Scott Joseph (Sara) Stiles; grandchildren, Carley, Hayley, Zoe, Shelby, and Gunner; and great-grandchild, Beckham.
A celebration of life will be announced by the family.
Memorials may be made to the Ohio Pet Sanctuary or Organization for Autism Research.
© 2022 – All rights reserved to LT Stephen R. Kramer RET and the Greater Cincinnati Police Museum