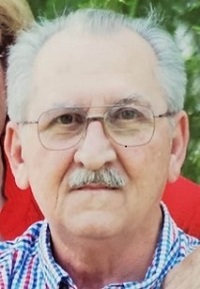 Carl was born April 6, 1942, to Nicholas Charles and Estella Ruth (Gibson) Draginoff.  He attended St. Clement Grade School and Roger Bacon High School and graduated in 1960.
Carl first served St. Bernard as Clerk of Council.
He then joined the St. Bernard Police Department as a Patrolman, completing Recruit training with the 54th Cincinnati Police Recruit Class on January 3, 1971.  During October 1972 he exchanged shots with an armed robber at 200 E. Mitchell Avenue.  By 1973, Patrolman Draginoff was assigned as an agent with the Regional Enforcement of Narcotics Unit (RENU).  Officer Draginoff served until 1988.
Officer Draginoff died on January 15, 2022, at the age of 79.
He was predeceased by his wife of 56 years, Joyce Lee (Smith) Draginoff (2021), and daughter, Carla Jo Draginoff (1966).  Officer Draginoff is survived by his children, Toni Ann (Greg) Hellmann, Carl Joseph (Lisa) Draginoff, Jr., John Edward (Rachel) Draginoff; grandchildren, Emily (Stephen), Sarah, Ryan, Greg, Alex, Katherine, and Elizabeth; and sister, Ruth Higgins.
Visitation was held from noon to 1 p.m. on Thursday, January 20, 2022, at Hodapp Funeral Home at 6410 Cin Day Road in Liberty Township.  A blessing occurred at 1 p.m.  Entombment followed at St. Mary Cemetery at 701 East Ross Avenue in Cincinnati.
Donations may be made to the National Fraternal Order of Police, 701 Marriott Dr., Nashville, TN 37214, or the National Kidney Foundation, 30 East 33rd St., New York, NY 10016.
© 2022 – All rights reserved to LT Stephen R. Kramer RET and the Greater Cincinnati Police Museum