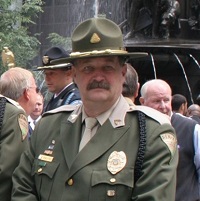 Glen was born May 5, 1955 to Lloyd Glen Smyth, Sr., and Margaret Smyth.
Glen joined the Hamilton County Park Rangers on April 20, 1978. During the mid-1980s he was promoted to Sergeant. Ranger Sergeant Smyth retired June 22, 2011 with 33 years of service to the Park District.
In addition, Sergeant Smyth served Hamilton County law enforcement with his heavy involvement in the Hamilton County Police Association.  He joined the organization in 1977, was elected to the Executive Board in 2003 as the County Representative, and chaired the Firearms Committee in 2003 and the Social Committee 2004 to 2007.  Sergeant Smyth was elected and served as 1st Vice President in 2008, President 2009 and 2010, and immediate Past President 2011 and 2012.  Sergeant Smyth additionally created the first HCPA website and was instrumental in its transition in 2016.  He remained an active member for more than 44 years.
He was also a member of the Fraternal Order of Police, Lodge 113.
Near the first of 2022, Sergeant Smyth contracted COVID.  As his health deteriorated, he was admitted to Mercy Hospital -West, then to ICU, and died at five minutes after midnight on January 8, 2022 at the age of 66.
He was predeceased by his son, David Glen Smyth.  He is survived by his wife of 44 years, Christine Lyn (Borchers) Smyth; children, Daniel Glen (Becky) Smyth, and Christopher Benjamin Smyth; grandchildren, Lina Smyth, Mia Smyth, Abby Smyth, and Lydia Smyth; and brother, Michael Smyth.
Visitation will be held 5 to 7 p.m. on Friday, January 14, 2022 at the Lifespring Christian Church at 1373 Galbraith Road in North College Hill.  A funeral service will be held at 10 a.m., the following morning, January 15, 2022.
Donations may be made to his son's non-profit, Green Umbrella, the Common Orchard Project.
© 2022 – All rights reserved to LT Stephen R. Kramer RET, CAPT Mike Dressell, the Hamilton County Police Association, and the Greater Cincinnati Police Museum