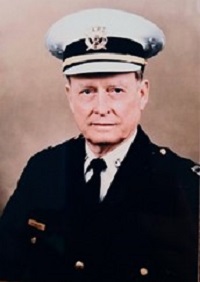 Paul was born July 12, 1929, to Lewis I. and Louella (Borgemenke) Twilling of Wells Avenue in Price Hill.  He attended Elder High School and graduated in 1947.
Paul enlisted in the United States Naval Reserve, serving during the Korean Conflict.  He was honorably discharged on October 2, 1954.
Paul worked as a produce manager at the Great A. & P. Tea Company on Glenway Avenue from July 1947 to July 1953.  He then became an insurance agent for the New York Life Insurance Company until June 1954.  He returned to managing produce for Jerome Bertke on North Bend Road.
Paul joined the Cincinnati Police Division as Police Recruit on January 9, 1956.  On April 16, 1956 he was promoted to Patrolman, issued Badge 704, and assigned to District 2 (314 Broadway).  Patrolman Twilling was rotated to District 1 (310 Lincoln Park Drive) and District 5 (1012 Ludlow Avenue) during 1957 and 1958.  On April 12, 1964, he was promoted to Detective and assigned to Crime Bureau (City Hall).  He topped the list of 159 officers taking the examination for Police Sergeant, was promoted on November 15, 1964, issued Badge S-22, and assigned to District 7 (813 Beecher Street).  On August 7, 1966, Sergeant Twilling transferred to Traffic Bureau.  He successfully completed the prestigious Traffic Police Administration Training Program at the Northwestern University Traffic Institute and the Insurance Institute for Highway Safety.
He was promoted to Lieutenant on January 28, 1968, issued Badge L-10, and reassigned to District 7.  Almost a year later, he transferred back to Crime Bureau.  He topped the list again, this time for Police Captain, and on November 10, 1971, was promoted and assigned as Deputy Field Operations Bureau Commander.  Five months later, Captain Twilling was assigned as District 4 Commander (7017 Vine Street).  He also served as Records Section Commander, Acting Inspections Bureau Commander, Acting Personnel Bureau Commander, Criminal Investigations Section Commander, and Court Services Section Commander.  One of his commanders described him as having "impeccable integrity and infinite wit."  Captain Twilling retired on July 4, 1986 with 30½ years of service and 25 letters of appreciation and/or commendation.
Captain Twilling died on January 22, 2022, at the age of 92.  He was the oldest retired Cincinnati Police Captain.
He was predeceased by his wife of 43 years, Patricia Ann (Ahern) Twilling (1996); second wife, Pat (Alexander) Twilling (2020); granddaughter, Megan Twilling; great-granddaughter, Parker Ann Wimmel; and siblings, Robert Twilling and Mary Appelmann.  Captain Twilling is survived by his by his children, Theresa (Rick) Wilhelm, Barbara (Vic) Boelscher, Paul J. (Jill) Twilling, Thomas (Teresa) Twilling, and Daniel (Jackie) Twilling; grandchildren, Victor (Joni) Boelscher, Scott (Myra) Boelscher, Chris (Paula) Boelscher, Tricia (Nathan) Weldy, Rev. Eric Boelscher, Ben (Brittany) Boelscher, Jennifer (Ryan) Fowkes, Tara (Mark Wimmel) Twilling, Paul (Brittany) Twilling, Ashley (Alan) Eldridge, Brittany Twilling, Bryan Twilling, Laura (Michael) Brown, Stephen Twilling, Kelsey (Andrew) Marck, Daniel (Diana Ahrman) Twilling, Michael Twilling, and Patrick Twilling; 26 great-grandchildren; step children; Kevin (Marybeth) Alexander, Donnie (Karen) Alexander, Kym Stellman, and Lorie (Mark) Stottman, 10 step grandchildren, and 10 step great-grandchildren.
Visitation will be held 9:30 to 11:30 a.m. on Tuesday, February 1, 2022, at Linnemann Funeral Home at 1940 Burlington Pike in Burlington, Kentucky.  An FOP service will be held at 11:15 a.m. A Mass of Christian Burial will be celebrated at noon at Immaculate Heart of Mary Church at 5876 Veterans Way in Burlington.  Interment will immediately follow at St. Joseph Cemetery in Price Hill.
Memorials may be made to the Elder High School "Paul E. Twilling Scholarship Fund," 3900 Vincent Avenue, Cincinnati, OH 45205 or St. Jude Children's Research Hospital at 501 St. Jude Place, Memphis TN 38105.
© 2020 – All rights reserved to LT Stephen R. Kramer RET and the Greater Cincinnati Police Museum