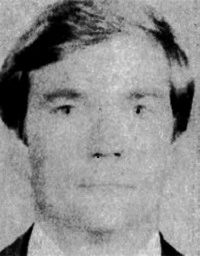 Dave was born February 6, 1945 in Ypsilanti, Michigan to Eugene and Wilma (Kern) Upchurch.  He attended the Belton (Illinois) Consolidated High School and participated in wrestling, Science Club, Speech Club, Key Club, YFG, and Chemistry Club.  He was President of Mu Alpha Theta, Parliamentarian for the FTA, and manager for the junior play.  Dave graduated in 1962.
Dave joined the Federal Bureau of Investigation during February 1971.  He served in the New Orleans and Miami Field Offices and at Headquarters in Washington D.C.  During July 1979, he was promoted to Supervisory Special Agent, and assigned to create a new White Collar Crime Squad at the Cincinnati Field Office.  During his career he investigated everything from robberies to foreign espionage.  He retired during March 1996 with 25 years of service.
After retirement, he drove a school bus for Forest Hills Schools for ten years.
Supervisory Special Agent Upchurch was recently suffering from heart ailments and died on September 27, 2021 at Ohio University Hospital after complication from heart surgery.  He was 76.
He is predeceased by his brother, Donald Upchurch.  Supervisory Special Agent Upchurch is survived by his wife, Shirley (Duckworth) Upchurch; children, retired Cincinnati Police Officer Anthony D. (retired Cincinnati Police Officer Robin) Upchurch, Annette D. (Gary) Gardner, Alan D. (Jodi) Upchurch, Albert D. (Susan) Upchurch, and Andrea D. (Bill) Bellis; sixteen grandchildren; two great-grandchildren; and siblings, Jerry (Kaye) Upchurch and Diana (Ron) House.
Visitation will be held 4 to 6 p.m. on Sunday, October 3, 2021, at the First Baptist Church of Glen Este at 1034 Old State Route 74.  A Masonic funeral service, with Kilwinning Lodge #356 F&AM and Scottish Rite Ring services will be held at 6 p.m.
Memorials may be made to the First Baptist Church of Glen Este or the Al Bloebaum Scholarship Fund, c/o Kilwinning Lodge #356 F&AM, 8040 Eagle Creek, Cincinnati, OH  45247.
© 2021 – All rights reserved to LT Stephen R. Kramer RET and the Greater Cincinnati Police Museum