Specialist James Adams Ferguson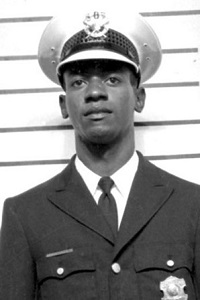 Jim was born February 17, 1943 to Jessie Mae Lundy and Herman Ferguson.  He attended Samuel Ach Junior High School and graduated from Hughes High School during June 1961.  He also attended the University of Cincinnati, earning a bachelor's degree in Criminal Justice; Xavier University earning a master's degree in education and business administration; and Cincinnati Christian College, earning a Divinity Degree.
Three months after high school, on September 8, 1961, Jim joined the United States Navy.  He went through basic training at Great Lakes and then served as a file clerk for the Commander's Amphibious Training Command, Atlantic Fleet.  Later he served as a Hospital Corpsman at Great Lakes.  Hospitalman Ferguson was honorably discharged on August 31, 1965.
When he returned home, he went to nursing school at Good Samaritan School of Nursing for a year.  During September 1966 he went to work as a helper at the G. A. Gray Machine Company on Woodburn Avenue.
He joined the Cincinnati Police Division as a Police Recruit on March 12, 1967.  On June 4, 1967 he was promoted to Patrolman, issued Badge 307, and assigned to District 1 (310 Lincoln Park Drive).  On August 17, 1969 he was rotated to District 5 (1012 Ludlow Avenue).  A year later he transferred to the Tactical Patrol Section.  During January 1973 he returned to District 5.  He was promoted the next month to Police Specialist and issued Badge PS-228 and assigned to the Criminal Investigation Section (222 E. Central Parkway).  Three months later, he transferred to the Intelligence Section.  On October 8, 1978 he transferred to District 4 (4150 Reading Road).  Specialist Ferguson resigned on March 30, 1979 with 16 years of service to his country and community and had already accumulated 13 letters of appreciation and/or commendation.
Specialist Ferguson then joined the Keebler Corporation as the Assistant Personnel Director.  Then, to an extent, he went on to serve his country again with General Electric Security in 1984 and retired 20 years later in 2004.
He later served mankind, as a member of the clergy, ordained on July 26, 2009 and served at the Zion Missionary Baptist Church in Glendale.  He participated in administering to the sick and prison, prayer, and music ministries.
Reverend Ferguson died on July 31, 2021 at the age of 78.
He is survived by his wife of 44 years, Margie Ferguson; daughters, Holly (Ferguson) Neal and Valerie Dawson; five grandchildren; three great-grandchildren; and three siblings.
Visitation and a funeral service were held on Saturday, August 14, 2021 at Overflow Ministries Covenant Church at 10870 Hamilton Avenue.  He was entombed in Rose Hill Memorial Park at 2410 Princeton Road.
© 2021 – All rights reserved to LT Stephen R. Kramer RET and the Greater Cincinnati Police Museum