Specialist Gregory Alan Kanz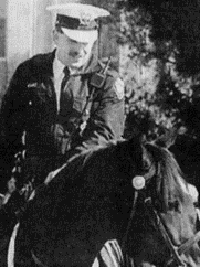 Greg was born November 3, 1961 in Ontario, Ohio to Gayle and Shirley (Lewis) Kanz.  He attended Ontario High School where he played football and competed in wrestling.  He attained the rank of Eagle Scout in 1977 and finished 2nd in the State tournament, wresting in the 132-pound class.   He graduated in 1980.
Greg earned an Associate Degree in Law Enforcement at North Central Technical College in Mansfield, Ohio in 1983 and joined the Ontario Police Department as an Auxiliary Police Officer.  He was elevated to fulltime Police Officer on September 5, 1985.
Officer Kanz moved to Cincinnati and during March 1986 and was appointed as a Park Police Officer by the Cincinnati Park Board.  During August 1986, he graduated from the Cincinnati Police Academy.
Park Police Officer Kanz was appointed a Cincinnati Police Officer in November 1988 due to the merger of the two departments.  Police Officer Kanz was issued Badge 130 and assigned to District 5 (1012 Ludlow Avenue).  On February 5, 1995 transferred to the Mounted Patrol.  He was promoted to Police Specialist on January 24, 1999, issued Badge PS-130, and assigned as a District 3 Neighborhood Officer.  During 2002, Specialist Kanz was commended by the Police Chief for arresting a juvenile on his way into Western Hills High School with a loaded semiautomatic pistol with intention to shoot one or more classmates.  He transferred to the Downtown Services Unit as a Bicycle Officer on August 22, 2004.  Specialist Kanz retired with a medical disability on November 4, 2006 with 21 years of service and 23 letters of appreciation and/or commendation.
On October 17, 2014 he joined the Lee County (Florida) Sheriff's Office as a Background Investigator.  He served that community another 6¾ years.
On July 15, 2021, Specialist Kanz was riding his motorcycle with a friend when they were struck by a dump truck while stopped at a traffic light at an intersection in Crawford County, Indiana.  He was taken to a University of Louisville hospital with extensive whole-body injuries and in grave condition.  Specialist Kanz died at 11 a.m., with his family at his side, on July 19, 2021.  He was 59.
He was predeceased by his mother, Shirley Kanz.  Specialist Kanz is survived by his wife, Bev (Dunn) Kanz; children, Gregory Kanz, Jr. and Amber Kanz; grandchildren, Gisele Tarter, Chance Springer, and Keontez Bradley; father, Gayle (Sue) Kanz, Sr.; siblings, Gayle (Christy) Kanz, Jr., Kim (Greg) Colangelo, and Judy (Walt) Klass; stepchildren, Samantha Dunn, James Dunn, and Robert Farley; and stepbrother, Jeff Fletcher.
Visitation will be held 4 p.m. to 6 p.m. on Wednesday, July 28, 2021 at the Wappner Funeral Home at 100 S. Lexington Springmill Road in Ontario.  An FOP service will be held at 6 p.m.  A burial service will be held at 10 a.m. on Thursday, July 29, 2021 at the funeral home with a reception to follow.  He will be interred at the Mansfield Memorial Park cemetery.
Memorials may be made to the Cincinnati Blue Line Fraternal Order of Police Foundation, 1900 Central Parkway, Cincinnati, OH  45214.
© 2021 – All rights reserved to LT Stephen R. Kramer RET and the Greater Cincinnati Police Museum