Sergeant Wayne D. Pfirrman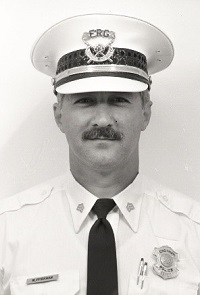 Wayne was born June 7, 1947 to Robert T. and Kathryn (Petryna) Pfirrman.  He attended Elder High School and graduated in 1965.
On April 21, 1966, Wayne joined the United States Navy.  He went through boot camp at Great Lakes Training Center and served in Point Mugu, California at the Communications Center for a year.  He shipped to Danang, Vietnam and for eighteen months, stood bunker and tower watches, and participated in mobile patrols in compound and villages.  Petty Officer 3rd Class Pfirrman was honorably discharged during April 1970 with Vietnam Campaign, Vietnam Service, and National Defense Service Medals and a Navy Unit Commendation ribbon.
When he returned home, he attended Xavier University, majoring in General Business with a minor in Accounting.  He also took a position as Purchasing Agent for Sur-Seal Gasket and Packaging Company.
Wayne joined the Cincinnati Police Division as a Police Recruit on September 22, 1974.  He was promoted to Police Officer on February 2, 1975, issued Badge 507, and assigned to District 3 (3201 Warsaw Avenue).  He was rotated a year later to District 4 (4150 Reading Road).  On December 5, 1976, Officer Pfirrman and 123 other Police Officers were laid off due to budget problems.  He we recalled to the Division on February 26, 1978 and reassigned to District 3.  Officer Pfirrman was promoted to Police Sergeant on July 27, 1986, issued Badge S-65, and assigned to District 1 (310 Ezzard Charles Drive).  On January 14, 1990, Sergeant Pfirrman transferred to City Hall as Police Liaison to the Safety Director.  He retired seven years later on February 16, 1997 with 26 years of service to his country and community and fifteen letters of appreciation and/or commendation; including one from a police chief and three from safety directors.
On November 20, 1997, Sergeant Pfirrman followed former Safety Director David Rager to the Cincinnati Water Works and worked in their Security Division.  He retired again after another 15¾ years on August 1, 2013.
During 2018, Sergeant Pfirrman suffered a stroke.  He was recovering well but was then diagnosed with Pancreatic Cancer.  By February 2019, he had undergone chemotherapy without noticeable results.  To say he battled the disease would be a great understatement.  But, on May 5, 2021 he died at the age of 73.
He was predeceased by his sister, Diane Pfirrman.  Sergeant Pfirrman is survived by his wife of 48 years, Rosemary (Hofling) Pfirrman; children, Michael Pfirrman, Jeffrey (Alison) Pfirrman, Petryna (Donald) Nagel, and Nicholas Pfirrman; grandchildren, Haley Pfirrman, Weston Pfirrman, Ashlyn Pfirrman, Marie Nagel, Libby Nagel, and Benjamin Nagel, and siblings, Kathy (Jerry) Moorman, Robert (Cindy) Pfirrman, James (Linda) Pfirrman, Tina (Michael) Koesters, and Richard Pfirrman.
Visitation will be held 5 to 8 p.m. on Monday, May 10, 2021 at Vitt, Stermer, and Anderson Funeral Home at 4619 Delhi Avenue.  An FOP Service will be held at 8 p.m. A Mass will be celebrated at 10 a.m. on Tuesday, May 11, 2021 at St. Dominic Parish at 4551 Delhi Pike.  Burial will follow at St. Joseph's Cemetery at 4500 Foley Road.
© 2019 – All rights reserved to LT Stephen R. Kramer RET and the Greater Cincinnati Police Museum