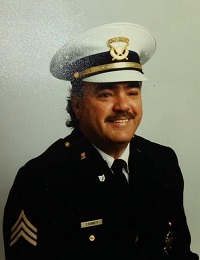 Tommy was born June 29, 1945 in the Pebworth Community of Owsley County, Kentucky to William Hunter and Arkie (Isaacs) Cornett.  William moved his family to Cincinnati and Tommy attended Central High School, graduating in 1964.
From September 1963 to April 1964 he refinished and reconditioned business machines at Business Machines, Inc. at 3415 Warsaw Avenue.  After graduation to June 1967, he worked as a salesman for Sears on Reading Road.
Tom joined the Cincinnati Police Division as a Police Recruit on June 18, 1967.  He was promoted to Patrolman on September 10, 1967, assigned to District 5 (1012 Ludlow Avenue), and issued Badge 343.  On August 17, 1969, Patrolman Cornett was rotated to District 4 (7017 Vine Street).  On October 8, 1978 he transferred to Central Vice Control Section.  He returned to District 4 (by then at 4150 Reading Road) during 1980.  On November 3, 1981 he was promoted to Sergeant, reassigned to District 5, and issued Badge S-47.  Sergeant Cornett also served in District 3 (3201 Warsaw Avenue), Internal Investigation Section, and back at Central Vice Control Section.  His commander considered him the single greatest reason for their success.  A current police chief in another jurisdiction considered him one of the best supervisors he ever worked for.  Sergeant Cornett retired with a disability and 23 years of service on October 2, 1990.  He also had 24 letters of appreciation and/or commendation, including six from three separate police chiefs.
After retirement, he worked in security with the Boston Red Sox baseball team during spring training in Florida.
He was also a member of the Queen City Mason Lodge No. 559.
Tom had a long-term vascular problem and died at his home in Booneville, Kentucky while under hospice care on September 16, 2021 at the age of 76.
He is predeceased by his siblings, Eddie Ray Cornett, Naomi Hafer, and Iva Lee Gabbard.  Sergeant Cornett is survived by his wife of 40 years, Bonnie K. (Britton) Cornett; children, Tommy Ray Cornett and Brandye Bradley; grandchildren, Brhianna Genereux and Aydan Genereux; sister, Shirley Theuneman; and sister-in-law, Elva Cornet.
He was interred in the Newman Family Cemetery on Hill Road in Booneville, Kentucky.
A celebration of life will be held 1 p.m. to 3 p.m. on October 23, 2021 at the FOP Hall, 1900 Central Parkway.
© 2021 – All rights reserved to LT Stephen R. Kramer RET and the Greater Cincinnati Police Museum