Sergeant Randall Lee "Randy" Pierce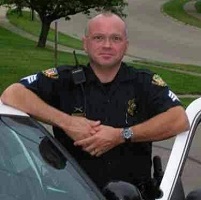 Randy was born in August 1963 in Cincinnati.
Randy joined the Springdale Police Department on December 15, 1986 as a Patrolman.  Less than five years later, on August 25, 1991, Officer Pierce was assigned as the Department's Crime Prevention Officer.  During 1993, Officer Pierce began hosting regularly scheduled cable show called "Safety Services."  During 1995, he was promoted to Crime Prevention Specialist.  Specialist Pierce graduated from the 41st session of the prestigious Police Executive Leadership College (PELC).  He was promoted to Sergeant during January 1999.  At the Annual Police Memorial Week Banquet during May 2000, Sergeant Pierce was honored with a countywide award for "Contribution to Law Enforcement" for an annual police exposition at the Tri-County Mall which he founded.  Sergeant Pierce left law enforcement for another opportunity during January 2009, with 23 years of service.
Sergeant Pierce's health deteriorated and, soon after he was placed under hospice care, he died, on June 13, 2021, at the age of 57.
He was predeceased by his son, Andrew Michael Pierce.  Sergeant Pierce is survived by his wife of 31 years, Trilda (McCracken) Pierce; children, Christopher Pierce and Victoria Lynn Pierce; mother, Bert (Turton) Pierce; and siblings, Richard Pierce and Karen (Steve Friday) Smith.
Visitation will be held 10 a.m. to 12 p.m. on Friday, June 18, 2021 at Forest Dale Church Of Christ at 604 West Kemper Road in Springdale.  A funeral service will be held at Noon.  Burial will follow in Oak Hill Cemetery.
© 2021 – All rights reserved to LT Stephen R. Kramer RET and the Greater Cincinnati Police Museum