Sergeant Maurice James Howe, Jr.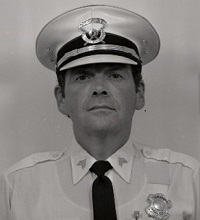 Jim was born October 17, 1947 in Ashtabula, Ohio to Maurice James, Sr. and Kathleen Anne (Neely) Howe.  He attended Saint John High School in Ashtabula and graduated in 1965.  He then moved to Cincinnati and attended the Saint Gregory Seminary, majoring in Philosophy, until 1968.
While attending high school, he worked as a salesclerk at Jules D. Bognar in Ashtabula.  From June to September 1968 he worked as a postal clerk for the United States Postal Service.
Jim joined the Cincinnati Police Division as a Police Cadet on September 15, 1968.  He was appointed Police Recruit on October 27, 1968.  On December 22, 1968, he was promoted to Patrolman, issued Badge 542, and assigned to District 7 (813 Beecher Street).  On September 12, 1971, he transferred to District 6 (3295 Erie Avenue).  During 1980, Officer Howe joined the Special Weapons and Tactics (SWAT) Team.  On January 10, 1988, he was promoted to Sergeant, issued Badge S-42, and assigned to District 4 (4150 Reading Road).  A year later, he rotated back to Erie Avenue (by then, District 2).  On November 4, 1990, Sergeant Howe transferred to Internal Investigation Section.  During January 1993 he transferred to District 1 (310 Ezzard Charles Drive).  In November 1993 he received a Rotary Club Administration Award.  Sergeant Howe retired October 21, 1995, with 27 years of service and 27 letters of appreciation and/or commendation.
Sergeant Howe then worked for AirNet Systems, based in Columbus, traveling the country for many years teaching secure transportation of hazardous materials and defensive driving techniques.
Sergeant Howe died with his family at his side on June 26, 2021, at the age of 73.
He is predeceased by his grandchildren, Amber Easton, Ariel Easton, and Matthew Howe, and infant sister.  Sergeant Howe is survived by his wife of 38 years, Linda Ellen (West) Howe; children, Heather (Bryan) Corwin, Stephanie (David) Ralston, Meredith (Kevin Klingelhafer) Easton, Christian (Katrina) Howe, Eric (Heather) Howe, and James (Caitlin) Howe; grandchildren, Grace, Lydia, Alexandria, Cameron, Chase, Kylie, Brendan, Ruby, Lucy, Julia, Benjamin, Gavin, and Sawyer; former wife, Nancy (Dennemann) Seipel; and brother, Jack (Mary) Howe.
Visitation will be held 12:30 to 2:00 p.m. on Friday, July 9, 2021, at T. P. White and Sons Funeral Home at 2050 Beechmont Avenue.  A FOP Service will be held at 2 p.m.  A funeral service will follow.
Memorials may be made to the Greater Cincinnati Police Museum, 308 Reading Road, Suite 201, Cincinnati, OH  45202.
© 2021 – All rights reserved to LT Stephen R. Kramer RET and the Greater Cincinnati Police Museum