Sergeant Ivan Lee "Sonny" Singleton, Jr.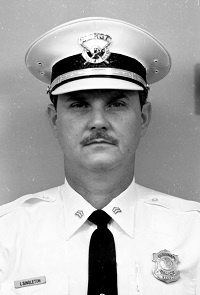 Sonny was born June 29, 1947 to Ivan Lee, Sr., and Delores Jane (Smith) Singleton.  He attended St. Bernard High School graduating in 1965.  He also attended the University of Cincinnati and majored in Police Science.
A few months after high school, Sonny joined the Cincinnati Police Division as a Police Cadet on February 14, 1966.  Cadet Singleton served in Communications Section (1430 Martin Drive), District 7 (813 Beecher Street), Reporting Unit (City Hall), and Crime Bureau (City Hall).  He entered the 49th Recruit Class on November 19, 1967 and was assigned to District 4 (7017 Vine Street) on February 25, 1968.  After turning 21, he was promoted to Patrolman on July 7, 1968 and issued Badge 633.   In the late 1960s, Avondale was a dangerous beat, and on June 7, 1969, he was called there to a false report, and, while in an apartment building looking for a non-existent complainant, a pipe bomb destroyed his patrol car.
Patrolman Singleton also served in District 1 (310 Lincoln Park Drive), District 5 (1012 Ludlow Avenue), and District 2 (3295 Erie Avenue).  On July 27, 1986, he was promoted to Police Specialist and issued Badge PS-21.  During May 1991, Specialist Singleton was assigned to Madisonville as a member of the Community Orient Policing (COP) Unit and quickly became a well-respected officer in the community.
On August 16, 1992, he was promoted to Sergeant, issued Badge S-51, and assigned to District 3 (3201 Warsaw Avenue).  During 1994 he was reassigned as the Investigative Unit Supervisor.  His commanders considered him exceptional and one of the best sergeants in the Division.  Sergeant Singleton retired May 16, 1996 with 30 years of service and 29 letters of appreciation and/or commendation.
He then went to work for Cincinnati Financial Corporation as a corporate Security Officer and served many years there as the Security Department Director until 2016.
Sergeant Singleton suffered for years with dementia.  He died during the morning of Saturday, September 4, 2021 at the age of 74.
Sergeant Singleton is survived by his wife of 41 years, Mary (Siciliano) Singleton; children, Sara (Kyle) Taylor, John (Caroline) Colwell, Shannon Singleton, and Leslie Shell; grandchildren, Jackson Taylor and Ashlyn Taylor; siblings, Trudy (Jim) Thall, Greg (Jenet) Singleton, and Dee (Chuck) Henry; and siblings-in-law, Howard (Kathy) Julien, Paula (Jim) McNulty, and Sharon (Mike) Bailey.
Visitation will be held on 9 a.m. to 11 a.m. on Thursday, September 9, 2021 at Tufts Schildmeyer Funeral Home at 129 N. Riverside Avenue in Loveland.  A FOP Service will be held at 11 a.m.  A funeral service will follow.  Internment will follow at Gate of Heaven Cemetery.
© 2021 – All rights reserved to LT Stephen R. Kramer RET and the Greater Cincinnati Police Museum