Sergeant Howard Whitson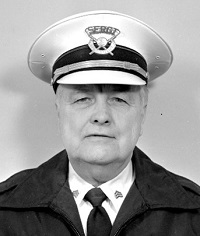 Howard was born January 1, 1935, the fourth child born to Zemer and Vergie Whitson.  He attended Western Hills High School where, in his first baseball game as a sophomore, he pitched a perfect no-hit game over St. Xavier High School.  Single-digit-hit and double-digit-strikeout games became the norm on West Hi and Robert E. Bentley Post teams.  He pitched West Hi to a Public High School Championship and Bentley to a national Junior American League championship.
From 1953 to 1954 he pitched for Cincinnati Reds-affiliated minor league teams, Jackson Generals, Duluth Dukes, Oak Ridge Pioneers and Douglas Trojans with a career ERA of 3.71 and .281 batting average.  He repaired organ keys for the Baldwin Piano Company from September 1953 to November 1954 when not playing ball.
Howard was drafted into the United States Army on November 9, 1954.  He completed basic training at Fort Knox and was trained as a chemical warfare equipment operator.  He was then assigned as a landing craft operator and served in Alaska and Canada.  Private First-Class Whitson was honorably discharge November 8, 1956.
He returned to the Baldwin Piano Company and attended Cincinnati Reds Spring Training in 1957.  Howard then worked as a salesclerk at Checker Stores until October 1959.
Howard joined the Cincinnati Police Division as a Police Recruit on October 12, 1959.  He was promoted to Patrolman on February 3, 1960, issued Badge 388, and assigned to District 2 (314 Broadway).  He was rotated to District 3 (3201 Warsaw Avenue) a year later.  On February 18, 1962, he transferred back to District 2.
During 1962, Patrolman Whitson married Charlene Norma Hopper.  During 1963 he began a secondary career as a slow-pitch softball umpire.
During 1965 Patrolman Whitson transferred to District 5 (1012 Ludlow Avenue).  On February 27, 1966, he was among the first officers promoted to the new rank of Police Specialist, issued Badge PS-100, and assigned to District 7 (813 Beecher Street).  On April 14, 1968, he was promoted to Sergeant, issued Badge S-49, and reassigned to District 3.  Sergeant Whitson transferred back to District 7 in 1970.  On July 4, 1971, he was transferred to the first Internal Investigation Section.  Five years later, Sergeant Whitson transferred to Personnel Section.  He transferred to District 1, Sector 3 (Central Business District) on January 30, 1977.  When District 1 was reorganized, he became the administrative assistant to the Special Operations Commander.  Years later, he transferred to the District Commander's administrative assistant.  Sergeant in his position as an administrative assistant and excelled as an Internal Investigations sergeant and field sergeant Whitson also spent many years as the detail coordinator for security at Cincinnati Reds' and Bengals' home games.  One of his commanders exclaimed that he was exceptional. Sergeant Whitson retired January 11, 1997, with more than 39 years of service to his country and community and 46 letters of appreciation and/or commendation, including three from police chiefs and the Hamilton County Sheriff.
He continued serving at the Cincinnati Water Works in their Security Department.
Sergeant Whitson contracted Lymphoma and by late May 2021 he was under hospice care.  He died at 8 p.m. on May 29, 2021, at the age of 86.
He was predeceased by his wife of 44 years, Charlene Norma (Hopper) in 2006, and siblings, Ave, Dorothy, and Jerry.  Sergeant Whitson is survived by his daughters, Michelle Marie Whitson and Sharon Ann (Chad Kiphart) Whitson, and traveling partner, Nancy Spreen.
Visitation, a FOP service, and memorial service were held on Friday, June 4, 2021, at the Meyer Funeral Home at 5864 Bridgetown Road.
Donations may be made to the Greater Cincinnati Police Historical Society, 308 Reading Road, Suite 201, Cincinnati, OH  45202 or to Hospice of Cincinnati, PO Box 633597, Cincinnati, OH  45263.
© 2021 – All rights reserved to LT Stephen R. Kramer RET and the Greater Cincinnati Police Museum