Police Specialist Roger C. Meyer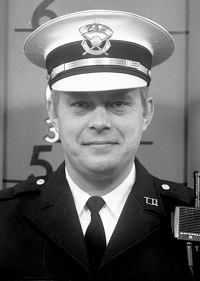 Roger was born January 23, 1937 in Cincinnati to Carl and Marie Meyer of Green Township.  He attended St. Aloysius Elementary School and Elder High School, graduating in 1956.
While attending high school, he worked as a clerk at Alber's Supermarket on Glenway Avenue.  Upon graduation, worked as a troubleshooter at Baldwin Company on Gilbert Avenue.
He also enlisted in the Coast Guard Reserve and was honorably discharged in 1959.
Roger joined the Cincinnati Police Department as a Police Recruit on October 12, 1959 in the 37th Recruit Class.  He was promoted to Patrolman on February 3, 1960, issued Badge 323, and assigned to District 3 (3201 Warsaw Avenue).  During January 1961 he was rotated to District 1 (310 Lincoln Park Drive).  A dedicated officer, though feeling ill during a June 1965 investigation, he continued interrogating a burglary suspect until he admitted to 30 offenses.  Only then did Patrolman Meyer concede to go the hospital with pneumonia.  Interestingly, one month prior, his captain questioned the very high performance rating his lieutenant had issued him.  During 1982, Patrolman Meyer returned to District 3 on January 7, 1968.
He was promoted to Police Specialist on May 9, 1971, issued Badge PS-242, and transferred to the Tactical Patrol Unit.  During 1972 he was commended for the arrest of another high-profile burglar, James Hardy.  On January 7, 1973 Specialist Meyer transferred to District 7 (813 Beecher Street).  He returned to District 3 on September 22, 1974.  During the mid to late 1970s Specialist Meyer also served as a Canine Handler.  On May 27, 1979 he transferred to the Criminalistics Section, Warrant Identification Unit.  Specialist Meyer retired January 28, 1986 with 26 years of service and 19 letters of appreciation and/or commendation.
We believe he is survived by his wife of 63 years, Joyce Marian (Thuerner), four children, and grandchildren.
Specialist Meyer died on August 17, 2021 at the age of 84.
Specialist Meyer is survived by his wife of 63+ years, Joyce Marian (Thuener) Meyer; children, Mark (Melody) Meyer, Mike (Peggy) Meyer, Melanie (Eric) Meyer, and Matt (Janice) Meyer; grandchildren, Amanda (Matt) Adams and Cody (Kylie) Meyer; step-grandchild, Dustin (Katie) Church; great-grandchildren, Skye and Myla; step-great-grandchildren, Connor and Hanna Rae; and sister-in-law, Kathleen Baarlaer.
Visitation will be held time 10 a.m. to 12 p.m. on Tuesday, August 24, 2021 at St. John the Baptist Catholic Church at 10010 Carolina Trace Road in Harrison.  An FOP service will be held at 11:45 a.m.  A Mass of Christian Burial will follow at Noon.  Interment to follow at St. Bernard of Clairvaux Church Cemetery at 7130 Harrison Avenue in Taylor's Creek.
Memorials may be made to St. Jude Children's Research Hospital.
© 2021 – All rights reserved to LT Stephen R. Kramer RET and the Greater Cincinnati Police Museum