Police Officer Nicholas Scott Kreimer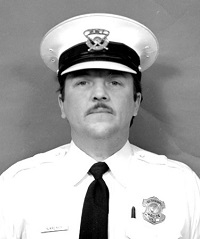 Nick was born March 21, 1950, to Norman and Eileen (Paulson) Kreimer.  He attended Roger Bacon High School, graduating in 1968.  He then attended the University of Cincinnati majoring in French, then Edgecliff College majoring in Medical Technology, until 1972.
While attending college, Nick worked at Miami Margarine as a laborer until June 1970, then at Proctor and Gamble.
Nick joined the Cincinnati Police Division as a Police Recruit on July 30, 1972.  He was promoted to Patrolman on December 17, 1972, issued Badge 45, and assigned to District 7 (813 Beecher Street).  Officer Kreimer was rotated to District 6 (3295 Erie Avenue) during April 1974.  He transferred back to District 7 a year later, the same year District 7 was absorbed into a new District 4 at 4150 Reading Road.  His supervisors, on his performance evaluations, all commented on his self-sufficiency, solid reactions in critical situations, and/or contagious positive attitude.  Officer Kreimer left law enforcement for an opportunity in Indiana on January 5, 1990.  He served seventeen years and already had eighteen letters of appreciation and/or commendation, including four from police chiefs.
Officer Kreimer suffered from a long-term illness and was placed in hospice care mid-May 2021.  He died, pain-free, on Father's Day, June 20, 2021 at the age of 71.
He is survived by his wife of 38 years, Carolyn Yvonne (Pence) Kreimer; children, Jennifer Dawn (Jeffrey) Vollman, Nicholas Richard Kreimer, and Kimberly Lynn.
There were no public services.
A celebration of life will be held 1 p.m. to 4 p.m. on Sunday, July 11, 2021 at Maury's Tine Cove Steakhouse at 3908 Harrison Avenue in Cheviot.
Memorials may be made to the American Cancer Society.
© 2021 – All rights reserved to LT Stephen R. Kramer RET and the Greater Cincinnati Police Museum