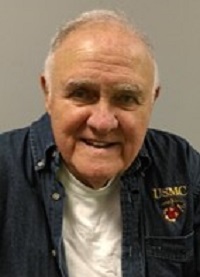 Nick was born December 10, 1936 in Maud, Ohio to George and Rachel (Mentiply) Nickol.  He attended Reading High School and Miami University in Oxford.
Nick enlisted in the United States Marine Corps and was honorably discharged.
By 1965, Nick joined the Reading Police Department as a Patrolman.  Within ten years, he was promoted to Sergeant and elected president of Fraternal Order of Police Lodge 74.  His mother was active in the Fraternal Order of Police Ladies Auxiliary No. 19.  By 1976, he was promoted to Lieutenant.  On February 28, 1982, Lieutenant Nickol entered a bar where a man was holding five persons hostage with a shotgun.  He charged the man and wrestled away the shotgun, earning Reading's first medal of valor on June 30, 1982 and another award from the Hamilton County Police Association at their annual banquet in 1983.  Lieutenant Nickol retired in the 1990s with more than 30 years of service to his country and community.
He died in his home, surrounded by his family, in Reading on December 14, 2021 at the age of 85.
He was predeceased by his sister, Rachel Jean Scott.  He is survived by his wife of 50 years, Joyce (Herrmann) Nickol; children, Phyllis (Robert) Ridner, Rhonda Nickol, Lance (Cherisa) Nickol, and Dawn (Ralph) Trentham; grandchildren, J.J. Nikki, Robbv, Jill, Lance, and Bethany; and great and great-great grandchildren.
Visitation will be held 10:30 a.m. to 12:30 p.m. on Wednesday, December 22, 2021 at Mihovk-Rosenacker Funeral Home at 10211 Plainfield Road.  A funeral service will follow at 12:30 p.m.  Interment will immediately follow at Crown Hill Memorial Park.
Memorials may be made to the American Cancer Society or St. Jude Children's Research Hospital.
© 2021 – All rights reserved to LT Stephen R. Kramer RET and the Greater Cincinnati Police Museum